Embrace the future together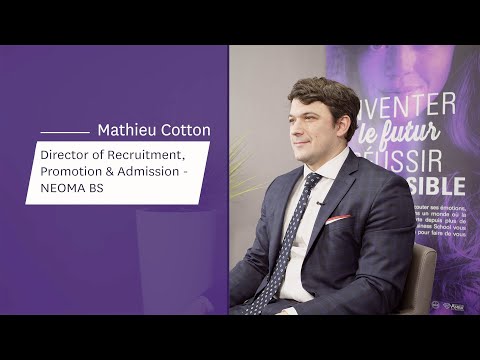 Available on both our Rouen and Reims campuses, it will offer you a broad range of possibilities in terms of tracks, specialisations and work environments.
When you join the programme you will develop an overall vision of the company and understand how its different functions combine to enhance its performance. This cross-functional approach is central to the educational philosophy of the Master in Management programme. It will make you an expert in management, capable of leading specialists effectively in marketing, finance, accounting, human resources, etc.
The Master in Management has been revamped.
The rhythm is sequenced with modules, academic courses, mentoring, thematic academic pods, internships, different tracks and international academic exchanges.
A specific module at the beginning of Year 1 and Year 2 semesters
Intensifying the concept of collectiveness and excellence : Starting Days, Future of Work, Sustainability Transition
Developing during the thematic academic pods
Getting future managers ready for tomorrow's stakes : CSR, softs skills for the future and « sustainability transition ».
Mentoring with NEO SMART
Work group with mentor students, selected and guided by the academic faculty, for the mentees, aiming for collaborativeness
Providing genuine employment possibilities, the programme will boost your prospects of being rapidly recruited as a specialist. At the same time, throughout the programme you will acquire cross-functional, flexible skills, enabling you to gain rapid promotion to senior management positions. These same qualities will guarantee your employability throughout your professional life, in France or abroad.
A career that will live up to your expectations.
Why join this programme ?
A cross-functional approach covering every department in the company and how they interact.
Innovation teaching methods promoting leadership and personal development : seminars, simulations, long-term case studies, etc.
International outlook and a broad range of skills, with academic exchanges, with different specialized tracks in either expertise or specific world regions, with double diplomas, the English track, and multicultural student cohorts.
Customised curricula, with an extensive choice of tracks and specialisations
Employability and fast-track career prospects, in France or internationally.
A worldwide recognized programme : ranked 19th worldwide by The Economist 2019 (MiM), ranked 5th French school by the worldwide Financial Times 2020 ranking (MiM).
NEOMA BS has been approved for endorsement under IMA's Higher Education Endorsement Programme (Institute of Management Accountants), thus recognising the school's expertise in Accounting and driving further international awareness and visibility to the school and the programme.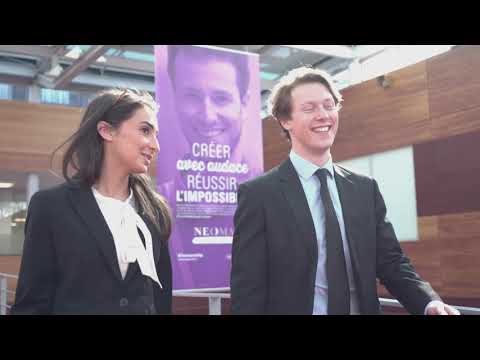 Curriculum
Our Master in Management includes several tracks, both traditional and alternative, with one fundamental objective: to offer you a curriculum that fits your career plan perfectly.
Depending on your level of English, from the outset you can follow most of your courses in English.
Our traditional tracks
Transform your knowledge into skills
Strengthen your ability by acquiring the fundamentals of genuine cross-functional management, so as to plan your career and give yourself a head start on your competitors in the employment market
Take courses, applying the fundamentals of management  to a specific sector or a "non-traditional" management function such as marketing… in a bank, or management control… in an opera house
Continue to build upon and structure your knowledge during an international semester at one of our 300 partner universities
Take the introductory courses to familiarise yourself with your final-year
In the final year, a phase where you reinforce your expertise with one of our excellence tracks and you will also have the choice of 16 MSc+ allowing you to have a double diploma.
Finance & Accounting
Marketing
Business et Management
Our specific tracks
Our Chartered Financial Analyst track (CFA®)
This excellence track is completed with an MSc in Investment Analysis.
This prestigious programme, offered on the Reims campus, allows you to:
Pass two levels of the CFA® (Chartered Financial Analyst), professional qualification in financial expertise for the CFA® Institute and prepare for level III
Train successfully for the professions of financial analyst and portfolio manager
Through this alliance,our School has joined the select circle of partners of the CFA® Institute, around one hundred organisations around the world, including the best business Schools.
Our Risk and Financial Technologies track
The objective of the programme is to prepare students for a challenging and rewarding career in financial risk management, the science of measuring risks, and the art of managing them. Learn how to effectively communicate risk to stakeholders. Immerse in real case studies (capstone seminar, financial simulation, MSc Project). Prepare for the Financial Risk Manager® professional certification (FRM) and benefit from the partnership with the Global Association for Risk Professional (GARP), 
 the largest professional association in Finance. Note : Because the programme is RNCP recognised (French National Framework of Qualifications), students who graduate from this programme are eligible to apply for an APS (temporary residence autorisation).
For more information, click here
Our dual-skill/double-diploma track
This part of the programme takes place outside the School at a partner institution and replaces the on-campus, end-of-curriculum specialisation. It offers you the opportunity to develop a specific skill, bringing exceptional added value to your CV. It is open to all our students.
Sports, engineering, project management, art… these programmes are set up around our partnerships with renowned establishments and our other programmes. We aim to : offer you the widest possible range of choices for your specialisation.
MASTERS AND SPECIALISED MASTERS AT PARTNER ORGANISATIONS:
OUR INTERNATIONAL DOUBLE DIPLOMAS
EXCHANGE PROGRAMME « ENTREPRENEURS ACROSS BORDERS »
To find out about the track, click here.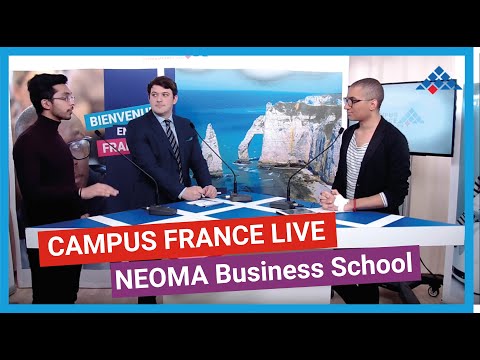 Professional experience
The multi-function skills that NEOMA BS graduates have to offer, coupled with top-level specialist knowledge, result in an especially attractive employment profile upon graduation from the school, and throughout their careers.
4 weeks on average to find employment, around 87% before graduation
34% work abroad
Average salary 43,9k€
Quick salary evolution over 3 years: over 55k€
Professional experience during your studies is essential because it will:
Provide you with the opportunity to put your theoretical knowledge into practice
Help to develop your career plan
Give excellent added value to your CV
Internships
The Master in Management provides for at least 10 months of internships :
A 6-month internship during the second and third years,  will confirm and refine your career plan and may well help you find your first job
You can apply for the numerous offers that companies advertise directly through the School, or you can look for a business or contract that suits you best.
Our entrepreneurship track
Do you have an entrepreneurial project in mind? The entrepreneurship track is made for you. Offered in your second year, this selective track allows you to focus on your own entrepreneurial project.
Your specially adapted timetable enables you to follow courses in the morning and work on your entrepreneurial project in our incubator in the afternoon.
By choosing this track, you can:
Put your skills to everyday use
Take on responsibility
Participate actively in School life and promote inter-cohort links
This track is also offered to high-level athletes
Support
The mission of the Talent & Career unit is to help and advise you with the various procedures, to prepare you for a successful, lasting transition into employment.
International
In today's globalised economy, you need to acquire the skills to lead your career in a multicultural environment.
This is why the Master in Management guarantees you a strongly international outlook. This commitment is implemented on and off campus in various forms.
Study in a multicultural environment
When you join our School, you choose to study on our multicultural campuses as one of a student cohort comprising of dozens of nationalities. You will work every day in small groups with these international students, learn new methods and learn to overcome communication problems caused by different languages and culture. At the end of the programme, you will be perfectly capable of working in a multicultural environment.
Spend 6 months abroad
You can spend one semester in a top-tier academic institution as part of your Master programme. The Master in Management makes this possible through a top-quality international network of nearly 300 possible destinations (depending on the semester), no matter what campus you are studying at.
The internships in the Master in Management programme can also be carried out in the country of your choice, as part of your international experience.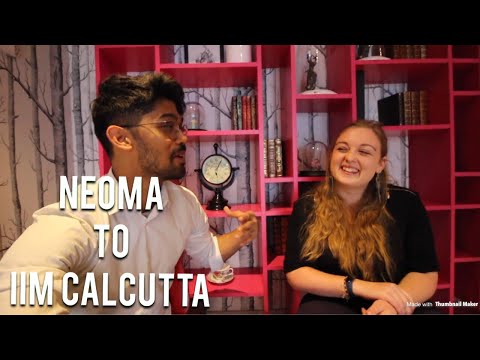 Choose an international double diploma
If you are looking to have an international career, the double-diploma track will bring an international element to your CV, as, instead of taking a specialisation, you undertake an exchange leading to a double-degree at one of our partner universities.
At the end of this period, you will receive our Master in Management Degree as well as a degree from the partner university.
Argentina :
China :
Colombia
Italy:
Germany :
Japan :
Mexico :
Russian Federation :
Vietnam :
MBA at Centre Franco-Vietnamien de Formation à la Gestion, CFVG, Hanoi & Ho Chi Minh Ville
Exchange programme « Entrepreneurs across borders »
Entrepreneurs without Borders partnered with a prestigious institution : the reknown and historical institution of UC Berkeley. Students will get the unique opportunity to spend 6 months in Silicon Valley in one of the most distinguished universities in the world. They will be able to launch their business projects through LeBridge Program.
Le Bridge program is a year program for students and young graduates looking to become successful entrepreneurs. This program is divided into two parts: the first part at UC Berkeley and then at Schoolab Accelerator. During the first 4 months, student will learn about entrepreneurship by taking hands-on classes and by launching their own venture. This first part takes place at the Sutardja Center for Entrepreneurship & Technology (SCET), located within the College of Engineering of UC Berkeley. At the end of this first part, students will have the opportunity to be incubated at Schoolab in order to scale their business in France or in the United States. This program gathers students with different backgrounds to create diverse teams, as such NEOMA students enrolled in Le Bridge program are mixed with young entrepreneurs coming from other french and international schools. By the end of the program, students have developed the right mindset to be a successful entrepreneur, explored different ecosystems, grown their network, and have launched a new business.
Students of the incubators can join the incubator of an academic partner and :
Discover in a multicultural context the best local entrepreneur habits,
Build from the get-go international startups in the logic of "born gobal",
Go further and test their startup project by identifying the local business partners and promising markets,
Contribute to the dialogue of local startuppers, in the willingness of an international entrepreneurship ecosystem.
This track is now on several continents :
Europe: Dublin City University in Ireland
The Americas : Fondation Getúlio Vargas (FGV) in Brazil
The Americas : UC Berkeley in the United States
The Americas : Brock University & Carlton University & Laval University in Canada
Asia : United Arab Emirates University (UAEU) in the United Arab Emirates
Asia : IIM, Calcutta in India
Asia : Hong Kong Baptist University in China
Oceania : Deakin University in Australia
Careers
Boost your employment opportunities
The multi-function skills that NEOMA BS graduates have to offer, coupled with top-level specialist knowledge, result in an especially attractive employment profile upon graduation from the school, and throughout their careers.
4 weeks on average to find employment, around 87% before graduation
34% work abroad
Average salary 43,9k€
Quick salary evolution over 3 years: over 55,7k€
Become a professional that companies are looking for
The Master in Management Programme at NEOMA BS chooses to employ transversality in its curriculum: during your studies, you will come in contact with different areas of corporate management and learn about their different functions and interactions.
Through this exposure, at the end of the programme, you will be able to take charge of projects from A to Z, and manage specialists from different areas of the business thanks to your transversal outlook.
This transversality opens the doors to professional placement and a continually evolving career path. Therefore you will find graduates from the NEOMA BS Master in Management programme holding a variety of positions at the different companies from various sectors of activity:
A solid alumni network is at your disposal after your studies
NEOMA Alumni is an association of NEOMA Business School graduates, one of the largest networks to come out of the Grande École programmes in France.
At the end of your studies, NEOMA Alumni and its Career Centre are there to support you throughout your professional career in all its phases.
Every year NEOMA Alumni organises more than 300 events (conferences, networking workshops, etc.) through its 26 professional clubs (sectorial or functional). The network also helps to drive the careers of graduates through promotional activities and the various networks of major companies that are always recruiting. More information on: www.neoma-alumni.com/
Business creators? The Startup Lab of NEOMA Business School is there to assist you
If you are a student heading a project for either business creation or business takeover, our multi-site Startup Lab provides you with a comprehensive support programme:
Work space
Individual and comprehensive coaching
Personalised mentoring
Networking connections with our expert graduates
A web development team
Learn more at:  http://startuplab.neoma-bs.fr/fr/
Some examples of companies that recruit graduates from NEOMA BS Master in Management

PwC, BNP Paribas, EY, KPMG, Deloitte, Accenture, Crédit Agricole, L'Oréal, Orange, PSA, BPCE, Axa, Mazars, Renault, EDF, Nestlé, SNCF, TOTAL, HSBC, LVMH, Bouygues, Cora, Danone, Unilever, Procter & Gamble, Natixis, Capgemini, Valeo, General Electric, Mondelez International, Michelin, Sanofi, LCL, JP Morgan, ALSTOM, IBM, Air France, KLM, McDonald's, CSC, CGI, Carrefour, CIC, SFR, Yves Rocher, AUCHAN, Philips, BearingPoint, Accor, La Poste, Siemens, Thales, Beijaflore, Crédit du Nord, Henkel, Google, Deutsche Bank, Oresys, Hermès, Hewlett Packard, BMW, Barclays, Veolia, Décathlon, Chanel, Atos, Crédit Suisse, Crédit Mutuel, Pernod Ricard, …
Admissions
In order to apply for our Master in Management – Grande Ecole program you need:
A Bachelor's Degree from a non-French Institution with at least 3 years of education (and two of them outside France).
Complete the online application, selecting the Master in Management
English track: IELTS 6.0 or equivalent; GMAT recommended.
French track: French B2 level and IELTS 5.5 or equivalent; TAGE MAGE recommended.
Admission process :
Once an application is complete and submitted, the admissions team will process the file and contact you if we need any additional documents or content
Candidates who meet all the entry requirements and have a complete file will be interviewed by Skype or in person on one of our campuses
The Admissions Committee will meet within one week after the interview
Candidates are informed by email of the admissions jury decision
Students are advised to sit their tests as early as possible to obtain admission results in time for visa procedures.
Admissions Schedule for the September 2021 intake :
January 21st
January 29th
February 8th
February 10th
February 17th
February 26th
March 5th
March 12th
March 23rd
April 2nd
April 13th
Scholarships
Excellence scholarships for the best international students !
NEOMA Business School supports and encourages the best international students to enter its programmes via an ambitious programme of excellence scholarships.
This scholarship and financial aid programme helps the best international profiles enter one of the programmes offered by the school. Determined based on the academic excellence and professional and personal achievements, the excellence scholarships aim to attract the best foreign students.
Excellence International Scholarships MIM – admission in M1
Excellence scholarships at recruitment : Positioning under one week – for 1st year only : €2,500
Keep in mind! The number of scholarships is limited and act as reductions in tuition.
For more information, contact our international team:
Katie FISHER
Western Europe, USA & Canada
Mariceli BLIN
Africa & Middle East
Xiaotong POIRREE
Eastern Europe & Central Asia
Anya Angélica CÁRDENAS
Latin America
Practical information
Format:

Full time

Duration:

2 years

Tuition fees:

14 750 € per year

Campus:

Reims, Rouen

Teaching language:

French or English track

Course start date:

September 2021

Entry level:

Bachelor's degree

Degree awarded:

Master's degree
close-icon
Ranking
7 th rank
Le Parisien & L'Etudiant Ranking 2020
19 th rank
The Economist - Masters in Management 2019
6 th rank
Challenges Best French Business Schools Ranking 2020
28 th rank
Financial Times "Masters in Management 2020" Ranking
close-icon
Practical information
Practical information

Format:

Full time

Duration:

2 years

Tuition fees:

14€

Campus:

Reims, Rouen

Teaching language:

French or English track

Course start date:

September 2021

Entry level:

Bachelor's degree

Degree awarded:

Master's degree