open alert
NEW INTAKE IN JANUARY 2021!
You have now the opportunity to join this program in January 2021! For more information, contact our Admissions Team!
alert close
open alert
Find out where you can meet us!
Come to meet our team by making an appointment Consult our list of events, you can check if your country/city is in it
alert close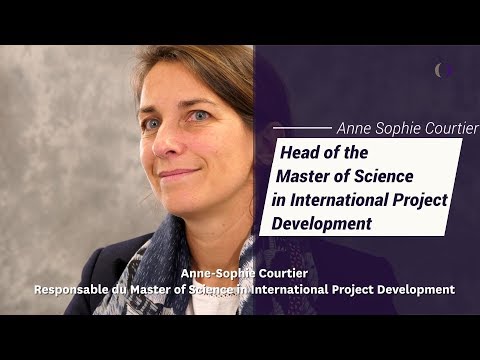 The MSc International Project Development prepares future managers to develop international business projects, from design to implementation. Mainly characterized by a strategic and an inductive approach, the programme enables you to progress fast during your  career in Business Development. Capable to face diverse professional situations, you will learn not to remain in your comfort zone and become agile in various challenging business contexts.
With the Case Study Competition, you will work on a concrete corporate project during the programme, with highly strategic, political, financial, and environmental aspects to deal with.
Why join this programme ?
With over 10 years of experience, the MSc International Project Development is a unique project based programme that gives you strategic managerial skills:
Become an expert in project development: train in MS PROJECT, gain PRINCE2 ® (PRoject in Controlled Environments) certification in project management.
Experience a real business situations with companies such as Intel, Curver, Boeing, DCT, Sunreef Yachts as well as local start-ups.
Enhance your strategic skills with the Case Study Competition: all along the course, you are immersed in a genuine, multi-dimensional corporate project.
Learn by doing: design and implementation of projects with local and international companies.
Enrich your cross-cultural skills in a diverse, multi-cultural environment: nearly 90% of students are is international, the faculty is international and you can undertake your internship abroad.
Work outside of your comfort zone on a project from conception to implementation!
From the genesis of a project to its implementation
The programme is structured around 4 skill areas. The students work on various projects, from conception to implementation, as well as on business case studies. They also take part in a simulation game and an online challenge at international level.
At the end of the training, you will have mastered the specific features involved in the management of international projects.
Skills developed through this specialist programme:
1- Designing projects on an international scale
By carrying out a diagnosis of the organisation's strategy,
By designing a project on an international scale,
By evaluating and defining the human, technical and financial resources,
By promoting the project to the various different stakeholders (management, financiers, authorized representatives, employees, etc.).
2- Directing projects at international level
By implementing and monitoring a project at international level,
By ensuring the viability of a project within an international context,
By managing the interface between the various partners,
By evaluating the results of a project in relation to the constraints of the organisation.
3- Managing an establishment and/or a structure abroad
By drawing up operating budgets,
By locating and negotiating financing for establishing an organisation on an international scale,
By finding opportunities for growth at international level.
4- Managing a multicultural team
By supporting the development of the project, by coordinating a multicultural team,
By promoting synergy between colleagues and the generation of knowledge/skills,
Anticipating and managing conflict in an international context.
Courses
SEMESTER 1
SEMESTER 2

Cases in International Project Development
Project Management Methodologies
Financial Issues for Project Management
Managing Individuals and Teams : an Experiential Approach
Multi-project Portfolio Management
Strategies of Development Across Countries and Cultures
Negotiation Strategies and Dispute Resolution
Leadership Seminar

Business Planning and Global Innovation
Making the Transition from Academia to the Business World
New Venture Development
Project Management Life Cycle
Strategic Marketing Management
Business Ethics and CSR for International Projects
Individual Trajectory
Final Simulation
Research Work
Careers
Career opportunities after the MSc International project development
The MSc International Project Development prepares future managers to develop international business projects, from design to implementation, and to progress fast during your career in Business Development.
Average base salary : €43,870/year

100% of students find employment within 3 months.
A few of the possible jobs to which you can aspire in the field of project management and business development:
Business Development Executive
Project Manager
Key Account Manager
Export Manager
Area Manager
Where do the graduates work?
■ Marketing 43%
■ Consulting 29%
■ Administration & Top management 14%
■ Project manager 7%
■ Communication 7%
Sectors of employment
■ Information technologies 29%
■ Retailing 15%
■ Media & advertising 14%
■ Consulting 14%
■ Energy 7%
■ Luxury sector 7%
■ Automotive industry 7%
■ Real estate 7%
(Graduate Employment Survey 2019)
Admissions
Admission requirements for the MSc International Project Development
Are you a competitor, always on the lookout for new adventures? The MSc International Project Development is designed for you!
You want to develop your career and are keen to open your horizons by enhancing your knowledge and international experience in an international class.
Beyond the minimum eligibility criteria, you must prove your curiosity, openness and willingness to understand the challenges of business development in an international business environment.
Eligibility
4-year Bachelor degree (general management, business, economics, engineering, architecture, health professionals, etc.)
Proof of your English ability is required during the online application process (TOEIC, TOEFL, IELTS, etc.)
Calendar
Recruitment is carried out on a rolling admissions basis. However, given the limited number of places, candidates are advised to apply as early as possible.
Admission is decided on the application to be filled out online.
Application fees: €100
For more information, contact our international team:
Practical information
Format:

Full time

Duration:

15 months

Tuition fees:

16 900 €

Campus:

Rouen

Teaching language:

English

Course start date:

September/October 2021

Entry level:

4-year Bachelor's degree

Degree awarded:

Master of Science / "Grade de Master" | Titre RNCP niveau 7
close-icon
Ranking
8 th rank
Eduniversal best Masters Ranking 2020
Category International Management
close-icon
Practical information
Practical information

Format:

Full time

Duration:

15 months

Tuition fees:

16€

Campus:

Rouen

Teaching language:

English

Course start date:

December 2020

Entry level:

4-year Bachelor's degree

Degree awarded:

Master of Science / "Grade de Master" | Titre RNCP niveau 7