open alert
NEW INTAKE IN JANUARY 2021!
You have now the opportunity to join this program in January 2021! For more information, contact our Admissions Team!
alert close
open alert
Find out where you can meet us!
Come to meet our team by making an appointment Consult our list of events, you can check if your country/city is in it
alert close
The Supply Chain Management programme gives you insights into a globally connected market
Evolve in the Supply Chain and Procurement sector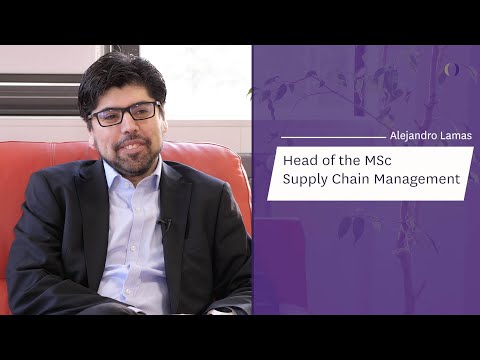 Thanks to a solid and intellectually challenging programme, you will gain deep insights into technical, managerial and strategic skills, helping you to obtain positions as managers or consultants in the Supply Chain and Procurement sector.
WHY JOIN THIS PROGRAMME
The MSc in Supply Chain Management prepares future leaders in international supply chain procurement, able to use new technologies and methods to address challenging issues in cross-cultural situations.
A solid education aligned with the main challenges in Supply Chain.
Become an SCM expert thanks to an innovative, intensive programme.
Discover SCM mechanisms during a 5-day intensive seminar (SNCF simulator, Le Havre Port visit, Rungis market visit, SAP training etc.)
Prepare for PMI (Project Management Institute) and Six Sigma qualifications through extensive use of information technology tools including SAP, Visual Basic training for SCM applications and professional courses.
Apply for membership of the Association for Operations Management (APICS) and of the Chartered Institute of Purchasing and Supply Management (CIPS).
Develop leadership and project management skills in a varied multi-cultural environment.
Choose one the following tracks:
The Supply Chain track to get a global view on decisions, activities and relationships among the different actors in Supply Chain.
The Procurement track to get a global view of supply management from strategic sourcing, international procurement, relationships with retailing, notions of international commerce and custom.
Layout of the programme
The MSc in Supply Chain Management focuses on Purchasing and Development, and offers a balanced professional experience and training between Strategy, Processes, Organisation, and Information Systems.
The Supply Chain track:
It puts the emphasis on the processes and operations design, logistics and the development of supply chain strategies. This track also addresses the application of Information Systems in supply chain and how to generate long lasting competitive advantage.
The Procurement track:
It underlines the importance of strategic sourcing, international procurement, relationship with retailing, notions of international commerce and custom. The aim is to create value under procurement challenges such as cross-cultural situations, new business environment and integration with other functions of organisation.The curriculum is organised in intensive weekly modules. Mornings are spent on theory, while afternoons are devoted to workshops and practice.
Students can learn from the on-site operations and decisions thanks to company visits and conferences.
The programme culminates with a 4 to 6 month internship (either in France or abroad) and the professional thesis (oral defence).
Courses
SEMESTER 1
SEMESTER 2

Industrial Organisation
Transportation and Logistics
Green Supply Chain and CSR
Strategic Purchasing
Strategic Supply Chain Management
Supply Chain Modeling
Shape your career
Leadership Seminar

Information Systems for Supply Chain Management
Sustainable Operations and Process Management
Project and Risk Management
Workshop on programming for SCM
Either TRACK PURCHASING: International Finance
Lean Management, International Procurement
Or TRACK SUPPLY CHAIN MANAGEMENT: Quality Management for Supply Chain Management
Revenue Management
Final Simulation
Professional experience
Internship
Mission
Employment
Business creation thanks to NEOMA BS incubator.
Careers
Drive your career in international supply chain management
The programme trains future specialists in international supply chain management and procurement.
Average base salary : €49,000/year

95% of students find employment within 3 months.
Sectors of employment
■ Food Industry 20%
■ Retail 20%
■ Internet/Communication 20%
■ Logistics 10%
■ Chemicals 10%
■ Energy 10%
■ Consulting 10%
A few of the possible jobs to which you can aspire:
Purchasing Manager
Supply Chain / Purchasing / Operations Consultant
Demand Manager
Supply Chain Manager
Head of Procurement
Logistics Director
Planning Manager
Flow Manager
Leader of Supply Chain Projects
(Graduate Employment Survey 2019)
Admissions
The MSc in Supply Chain Management welcomes students from industrial engineering (mechanics, etc.) or scientific (economy, management) backgrounds, and logistics professionals (process managers etc.) who are willing and able to take up complex challenges.
Eligibility
4-year Bachelor degree (Engineering, Business, Economics, etc.)
Proof of English language ability is required during the application process (TOEIC, TOEFL, IELTS, etc…)
Calendar
Recruitment is carried out on a rolling admissions basis. However, given the limited number of places, candidates are advised to apply as early as possible.
Admission is decided on the application to be filled out online.
Application fees : €100
For more information, contact our international team:
Practical information
Format:

Full time

Duration:

15 mois

Tuition fees:

16 900 €

Campus:

Rouen

Teaching language:

English

Course start date:

January 2021, September/October 2021

Entry level:

4-year Bachelor's Degree

Degree awarded:

Master of Science / "Grade de Master" | Titre RNCP niveau I
close-icon
Ranking
8 th rank
Eduniversal 2020 Best Masters and MBA Rankings Logistics category
close-icon
Practical information
Practical information

Format:

Full time

Duration:

15 mois

Tuition fees:

16€

Campus:

Rouen

Teaching language:

English

Course start date:

December 2020

Entry level:

4-year Bachelor's Degree

Degree awarded:

Master of Science / "Grade de Master" | Titre RNCP niveau I