Entrepreneurship
Stimulate your entrepreneurial spirit
We see entrepreneurship not just as a skill or activity, but rather as a state of mind. In keeping with our mission, we therefore seek to train students who have a real gift for entrepreneurship.
Our entrepreneurial approach takes various forms, including our multi-campus incubator and the entrepreneurship modules available on several of our programmes. All of these initiatives share the same objective of developing your capacity to act, innovate and create, well beyond simply setting up or taking over a business. We could even think of it in terms of entrepreneurial management or "entrepreneurship."
Informing you
As soon as you arrive on campus, we stimulate your curiosity and raise your awareness of the issues involved in setting up a business and ways of promoting innovation, through :
regular lectures given by entrepreneurs and start-up directors;

"entrepreneur cafés" 

organised by our student societies to give you the opportunity to talk with company founders in a relaxed and informal setting;
dedicated entrepreneurship events, such as the annual "POWERED BY NEOMA BS" day, which celebrates the entrepreneurial spirit, with a start-up forum, business pitch competition and talks.
Raising your awareness
After this initial introduction, we will set you increasingly realistic simulation exercises, where innovation and creativity are the key ingredients :
lectures, seminars, entrepreneurship programmes and project management exercises 

are available across all of our courses, from Bachelor programmes to Executive Education;
"real-life" exercises, such as the "NEOMA BS start-up" entrepreneurship challenge, which is open to all of our students. Over a 2-day period, you will work in teams to set up a business supervised by professors. Your project will then be assessed by a panel of judges from the world of business;
Student society entrepreneurship, through a selective track offered in the second year of the Master in Management Programme. You will manage one of the School's societies as a microbusiness, attending lectures in the morning and managing the society in the afternoon.
Helping you specialise
If you want to set up or take over a business, or would like project management training for any other reason, then several of our programmes offer specific modules in "entrepreneurship". For example :
the

 entrepreneurship specialisation in the Master in Management programme, taught by professors, company founders and those who have taken over businesses, and structured to suit entrepreneurial work. Students are also set a project that allows them to gradually put into pratice what they learn in class through experimentation and "hands-on" learning;
the TEMA "Project Management and Entrepreneurship" module, including in particular a class on "Entrepreneurship/Entrepreneurial Acquisition".
Guiding you throughout your entire entrepreneurial project
Do you have an idea for creating a business, or is there a start-up that you want to develop? Take advantage of the school's support structures: three incubators to help you materialise your business creation project and two accelerators to help you develop your start-up in the areas of EdTech and Mobility.
1. With our incubators
As a student or a graduate heading a business creation or takeover project, our multi-site incubators offer you a complete support structure through :
a fully equipped 

co-working space

 where students can discuss ideas and bounce them off other project leaders;

holistic individual coaching

 to support you through each step of your project, from planning to implementation;

personalised mentoring

 by experienced company directors;

access to a network of alumni with expertise in specific fields

 (including lawyers, chartered accountants and tax consultants) who can provide you with the best possible advice;

A programme of key events

 (various school events, training programmes, competitions, study trips) to fuel your creative thinking;
a 

web development team 

dedicated to developing websites and mobile applications specifically for internet start-up projects.
This start-up support facility is available at the Reims, Rouen and Paris campuses.
To help them develop their services and facilities, our incubators benefit from the support of NEOMA BS Foundation, which has made helping young entrepreneurs one of its key development areas.
For more information, visit the NEOMA BS Incubators website.
2. With our accelerators
As the final stage of a continuous support structure for business creation, our two accelerators, one based in Reims and the other in Rouen, are set up to accommodate all entrepreneurs and offer start-ups mentoring, expertise missions, training modules and pitch meetings in front of potential investors.
NEOMA EdTech Accelerator (Reims) capitalises on NEOMA Business School's commitment to pedagogic innovation based in digital technology and other forms of technology.
Backed by Société Générale Champagne-Ardenne, this accelerator covers the three main aspects of EdTech:
educational methods

 for learning how to learning and developing one's creativity;

technologies and digital tools

 used for effectively conveying knowledge and skills useful to companies;

learning management systems.
NEOMA Mobility Accelerator (Rouen) relies on the recognised expertise of NEOMA BS in logistics, supply chain management and transport.
In its comprehensive and multi-disciplinary approach, this accelerator aims to treat the issues of mobility in their entirety:
focus on infrastructure

 (port and ground transport and logistics);

superstructures

 (gantry automation, autonomous loading cranes, robotisation);

mobile equipment

 (connected lorry convoys, self-driving vehicles);

services

 (new business models, 3D printers, block-chain, AI, etc.).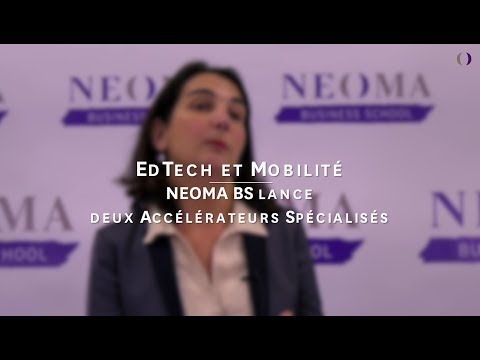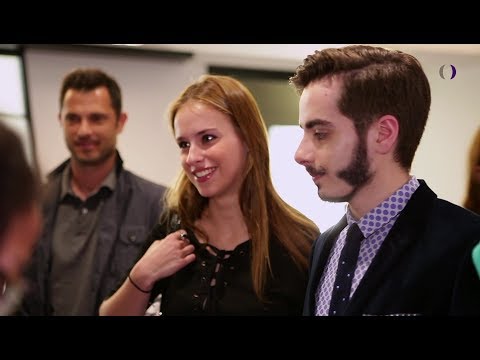 Key figures
More than 100 startups launched since 2011

More than 50 new project per year

More than 200 projects in pre-incubation

2 startups accelerators