Innovative teaching
Effective teaching methods, adapted to your needs
In a world of constant change, we prefer to help you "learn how to learn" so that throughout your career you continue to acquire the knowledge, skills, methods, and tools that will give you the best chance to be successful and help the organisations you work for develop.
NEOMA Business School's pedagogic philosophy is deeply rooted in practice-based learning or "learning by doing", one that in particular encourages real-world experience of management issues. This translates into constant interaction between theory and practice and a wide variety of methods used in our courses and programmes.
Innovative education: blended learning
This mixed pedagogic method combines distance and classroom learning.
Distance learning : e-learning
This autonomous format enables you to prepare for classes, acquire knowledge and reflect on work accomplished in the classroom.
Classroom learning : experiential (action learning)
During classes, you apply the skills you acquired through e-learning to interactive and immersive activities: simulations, flipped classrooms, project management, case studies, etc.
With Blended Learning the professor can give you more personalised guidance to help you acquire, understand, assimilate and deepen, your skills and knowledge.
Through this blended learning approach, the school is gradually introducing a balanced and well-considered combination of teaching methods adapted to the learning objectives of each programme. Each method is selected on the basis of the educational needs of the course or learning activity. The objective is to develop a more autonomous. Proactive approach to learning in our students.
Technology based education
Innovation responds to the need for adaptable methods and tool. Information and communications technology is one of the ways we introduce innovative course content and methods.
We have developed for your use the digital resources you need for your education.
ATAWADAC digital resources (Any Time, Any Where, Any Device, Any Content)
– Moodle: the learning platform for your e-learning activities and courses. This teaching platform brings greater diversity to the educational resources available to you, and provides you with the means to enhance your personal work. The platform combines a wide selection of tools and content to help you acquire new knowledge :
Helping you to prepare for courses with exercises, case studies and readings,
Providing you with direct access to libraries that contain articles, books, case studies, databases, etc.
Enabling you to assess yourself using multiple-choice tests and to hand in assignments online through an uploading function
Providing you with online learning modules to make it easier to learn the core principles of many management disciplines
Digital Educational activities and resources are

Digital library and databases (alongside physical collections)
Videos, readings, texts, tests, questionnaires, exercises, etc.
Simulations, business games, real business case studies
Electronic voting devices for multiple choice tests, interactive white boards, etc.
Technology incorporated into courses
3D scanners and printers, drones, Nao humanoid robots, virtual reality, telepresence robots, and other innovations are integrated into your courses so that you can experience the practical impact of these technologies on your future profession and the issues they raise, and discuss their broader impact on our society.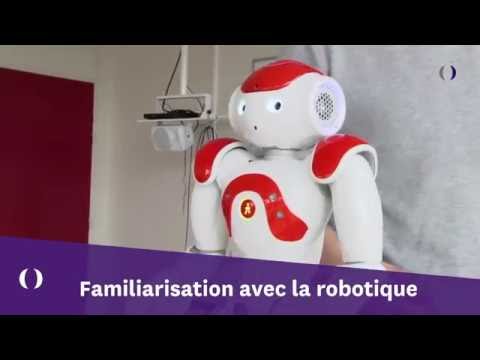 A Unit dedicated to innovative education
A team of experts develops a proactive approach to pedagogic innovation. It provides cutting-edge technology, methods and tools to enhance the learning process and make it as effective as possible. As the true driving force of pedagogic creativity at NEOMA Business School, it promotes and supports the constant development and improvement of teaching and learning activities, approaches and knowledge.
A Committee devoted to education
As a student, you too can choose to devote time and effort to developing your school's innovative educational practices. Indeed, COMMITTEE FOR INNOVATIVE LEARNING (CIL)  includes students among its elected representatives.
Its mission is to guarantee the implementation of innovative pedagogic methods at NEOMA BS in line with the school's strategy. It deals with both cross-functional issues and those related to specific programmes at the school.
Start-ups helping EdTech
Based in Reims, NEOMA EdTech Accelerator capitalises on NEOMA Business School's commitment to pedagogic innovation based in digital technology as well as other forms of technology and uses these assets to support start-ups coming from the EdTech programme throughout their development.
Backed by Société Générale Champagne-Ardenne, this accelerator covers the three main aspects of EdTech:
educational methods for learning how to learning and developing one's creativity;
technologies and digital tools used for effectively conveying knowledge and skills useful to companies;
learning management systems.
The objective is to support innovative projects that work to facilitate rapid and sustainable anchoring of knowledge and increased mobilisation of students in their learning process.
The projects coming out of this accelerator will then help to inform the programmes and expand the school's views on the education of tomorrow.