Special offers for NEOMA students
The School develops partnerships so its students can enjoy discounts on a range of services!
Moving in without going broke
NEOMA and MondoPal have teamed up so students can quickly and easily move into their lodgings without going broke.
Either alone or in a flat share, in a student dorm or even in a furnished flat, you will always be in need of essential items from pillows to pots and pans. Forget wandering through shops or searching all over the internet.
Check out turnkey packs
Create your own packs by choosing from more than 40 items.
Up to 28% cheaper
You can save a lot by buying a pack rather than buying item by item in the shops!
Delivered in 24 hours to your door or a parcel pick-up point anywhere in France Monday through Saturday
You can reserve your packs more than one month in advance.
Exclusive NEOMA promo code on the MondoPal website
Inexpensive computing hardware
Study with greater ease on an HP
NEOMA and HP offer computing hardware: laptop or desktop computers, printers, screens and accessories at lower prices.
Up to 25% off all year long
Free delivery within 48 hours
14 days to change your mind free of charge
The HP store for NEOMA students
Making digital technology available to everyone
To ensure digital technology is within the reach of the most modest budgets, Emmaüs Connect offers prepaid telephone and internet top-ups at helpful fixed prices (around 40% less compared to the market price) through the support of their partner SFR.
When stocks permit it, Emmaüs Connect also sells hardware at reduced prices: basic telephones, smartphones, laptop computers, etc.
Emmaüs Connect
Care for your image, online and IRL
Invest in a men's or women's suit or outfit
A custom, timeless suit made for you at a special NEOMA price. Our partner tailors your choice of suits and outfits. You can personalise your choice from among more than 200 high-quality fabrics.
Information and contact here
Manage your image on social media
Recruiters also look at your social media accounts! Our partner carefully cleans your Facebook & Twitter accounts for the negotiated rate of €10. Delete content that may comprising and increase your chances of finding an internship or block-release position!
ProPR Consulting
Students Jobs
La Belle Equipe
La Belle Equipe, a NEOMA partner, offers student jobs in various fields, mainly events management.
StaffMe
StaffMe is a digital platform that helps young people find upon request targeted, flexible and well-paid jobs. The Staffers just need to connect to the mobile app to receive job offers that match their skills and availabilities. These can be all types of jobs such as: shop sales positions, administrative aides, customer service, logistics, events management or restaurant/catering positions.
Jobaviz
Jobaviz, the Hub for student jobs, is reserved for people who can prove their student status. You first need to go on the portal "MesServices" to access the contact details of employers.
StudentJob
STUDENT JOB offers many different jobs. Whether its work between classes, in the evenings or at the weekend, you just need a computer or a smartphone with a good WiFi connection. For example, you can become an online French teacher, give individual courses on a specific subject that attract you the most, become a mystery shopper, respond to paid surveys, etc.
Dmitri
Dmitri is a connection platform for individual courses. The concept is simple: the professors post for free proposed courses that parents can view. It's a quick and easy-to-use platform. The teachers set their own rates and there is no commission on the lessons. A smart messaging system has been set up to make communication between the teachers and parents easier.
Through Dmitri, teachers can adapt to the particularities of each student, so the parent can enter the course's subject in advance to ensure the teacher can prepare the suitable material. At the end of the course, the teacher writes a course assessment with advice for the student's progress.
Tricks for traveling and studying abroad
Need a Visa?
With 50 years of experience, CIBT is the most important international company in processing visa and passport applications. They can reduce the time it takes to have documents approved and obtain the visa. To receive reduced rates negotiated by NEOMA BS: https://cibtvisas.fr/NEOMA
International student card
Each NEOMA student has an international student card (International Student Identity Card, ISIC).
They use it to identify who they are during exams, access campuses and printing services, and pay at the school's canteen.
The ISIC also provides access to numerous advantages in the areas of culture, leisure, travel, services, sport, restaurants, lodging, shopping, etc.
Be a sponsor or find a sponsor
Buddy system is the online platform that connects international students with local students in a sponsorship programme for offering support in administrative procedures, giving individual tours of the city, school, etc.
Inexpensive driving licence
With En Voiture Simone, obtaining a driving licence is cheaper and the course is adapted to your needs, objectives and priorities.
Online highway code: unlimited access to the courses with a database of more than 1600 questions. 24/7 online reviews and corrections.
Driving near to your home: the state-certified instructors support you in your driver training by providing lessons seven days a week from 6 a.m. to 11 p.m. Choose the meeting point that is the closest to your NEOMA campus. Book the lesson in two clicks on your app.
En Voiture Simone with the promo code NEOMABS
NEOMA goodies
L'ATELIER, the official NEOMA store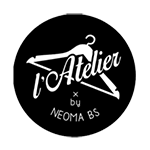 Members of the L'Atelier by NEOMA BS association work all year round to bring you items bearing the School's logo.
Visit the boutique on your campus (Reims or Rouen), where you can buy clothes or goodies for yourself, your friends or your family.