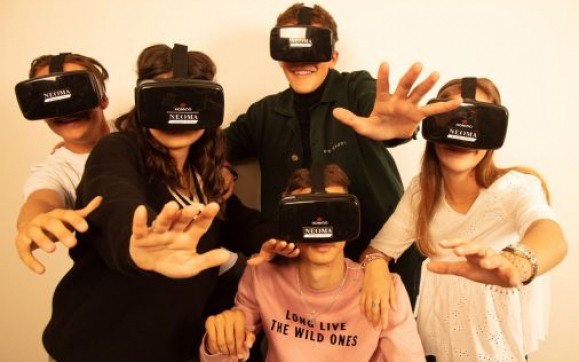 3 questions for Alain Goudey on using Virtual Reality in the classroom
The world has changed with the emergence of new technologies and teaching methods now need to recognize how information is constantly accessible via smartphones. It cannot be denied that digital technologies have generated a war for attention, both in the classroom and online: attention spans are now estimated at around 9 seconds per minute. In other words, a 6-hour day therefore only generates around 45 minutes of "effective" attention in the classroom. Virtual reality is interesting in this respect as this technology allows students to learn and develop skills through action and experience, something which goes beyond the provision of information. By answering our 3 questions, Alain Goudey, NEOMA's Chief Digital Officer, explains why educational institutions today need to incorporate virtual reality into their teaching.


What are the main advantages of using virtual reality in the classroom?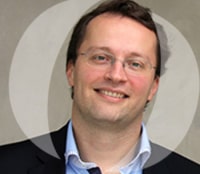 Virtual reality makes it possible to immerse students in situations that require reflection and action to explore the virtual environment in a hyper-realistic way (as in real life). For the moment, we have developed two case studies: one in marketing, based on the merchandising of a city centre store (6netic), the other in supply chain management, on the management of an E. Leclerc warehouse/drive. Students navigate their way through these contexts in a systemic and non-linear way (unlike a traditional written case study). In addition, using such a unique sensory and playful experience means that the students are involved in the course 100% and their routine learning habits are eliminated. Finally, a whole range of learning situations can be brought into the classroom to be compared and contrasted. For example, in a retail marketing course, we can present the city centre store case before showing the drive-through system. In this way, we encourage students to explore the similarities and differences between these two distribution models. Finally, these virtual reality case studies allow us to develop highly sought-after skills such as observation, critical analysis of a situation, abstraction (how to move from what I have observed to making generalisations, etc.) or creativity (how to improve the situation, etc.). Teaching that only aims to pass on information has no chance against the Internet... there is an urgent need to explore other teaching methods and to measure their real impact. With more than 3,300 students having used this technology, we now know that the future of virtual reality in teaching and learning is bright. However, it is worth mentioning that this method cannot replace the teacher in the classroom!

What are the challenges of using Virtual Reality and how can they be overcome?
Using virtual reality cases doesn't present any difficulty in particular as long as teachers have received a minimum amount of training. 10 NEOMA BS professors can now use both our Virtual Reality cases. The professors at NEOMA BS can also count on the support of a team of technicians in the classroom, especially at the beginning to ensure a perfect learning experience. However, we shouldn't forget that only about half the students are familiar with this kind of technology and that time needs to be taken to explain how it works before launching into the first case study.
Ultimately, our biggest challenge lies in creating the Virtual Reality case studies, which lies somewhere in between making a film and a serious game. Here, it is necessary to mix technical, creative, teaching and specific disciplinary skills.

How did you develop this technology at NEOMA? Do other institutions use VR in the classroom?
In 2015, following a cross technology watch, a potential for using virtual reality in teaching was identified. In doing so, I thought of a first marketing case (my speciality at the outset) in which this technology could be used. The project was presented to the management at the time and then produced. This led to the first case being officially launched in July 2016. The entire scope of the NEOMA BS ecosystem resources was mobilised to identify a venue (the 6netic store), which was opened by NEOMA BS graduates, seek out the technical skills of other graduates at a local company (Eclipse 360), and draw on the teaching and technical skills of the school's Learning Lab. We had to overcome a number of difficulties such as 'stitching' and the resonance frequency of the cameras' digital sensors that guarantee the best possible immersive experience.

Virtual reality has been used for technical themes in Engineering schools (modelling objects, technical training, understanding industrial processes, etc.) much longer than in management schools. Since we started, however, we have been contacted by other schools in France and abroad who wish to use our cases. The greatest obstacle lies in persuading Faculty members to use these new teaching methods.