Programme presentation
As it confronts over-informed consumers looking for guidance, meaning and experience, the marketing profession continues to reinvent itself. To address these new challenges, this specialised master gives you the keys to detecting and activating value-creation opportunities, remodelling avenues for innovation and establishing them with greater relevance and effectiveness.
The quality found in marketing research and decision-making is based on the ability of managers to understand consumer complexity and incorporate it into the core of their marketing strategies.
This programme will give you the skills to identify growth levers that can establish strong brands and to create long-lasting, rewarding strategies based in experience. Additionally you will be able to create omni-channel marketing and expand action plans that become immediately operational in the fast-moving consumer goods sector, while developing your leadership.
5 good reasons to join the programme
A well-known programme recognised in the academic and professional spheres: 35 years of expertise in the area of field surveys and marketing – Network of more than 900 graduates.
Solid, extensive partnerships with major players in the sector of consumer goods: 70% of courses taught by professionals from the business world.
Interactive pedagogy that is connected to the real world with simulations centred on the professionalisation process: real-life and virtual-reality cases, online simulations, business games, role-playing, field studies, etc.
A programme combining professional expertise and individual coaching.
A work-linked training programme boosting entry in the professional world and tuition funding assured through professionalisation contracts.
A high-quality programme for marketing professions with major sectorial expertise in fast-moving consumer goods
Programme objectives
The programme is intended for students and professionally active managers who want to undertake additional training and specialise in all the professions associated with marketing and fast-moving consumer goods. Its objective is train students to:
Reconnect marketing intelligence to current changes in society (societal transformations, digital, ethical and consumer)
Drive reflection and action in brand strategy and in brand experience experience
Develop a data culture to make the best decision
Manage performance by reconciling growth, profitability and social responsibility
Evolve with agility, transparency and integrity
Its part-time schedule is compatible with professional activity.
Skill sets
This programme is based on four skill fields:
Creating and formalising a marketing strategy
Establishing and guiding marketing plans
Managing financial and human resources specifically used for marketing
Analysing markets and their potential
This programme is accessible via the « VAE » (awarding a qualification based on relevant professional experience).
Programme highlights
INNOVATIVE PROJECTS THROUGHOUT THE YEAR ALLOWING STUDENTS TO ENTER INTO REAL-LIFE SCENARIOS
Market study project: completion of a quantitative study based on a company summary
Brandwatch • GfK Consumer Experiences • IRI France • Kantar WorldPanel • Nielsen France • Sémiosine • Sorgem Advance • Fifty-Five …
CRM challenge: Solve a real CRM problem for a major consumer brand
Projects have been developed for Danone, Blackpills, Du Pareil au Même, Darty, Nestlé Bébé, Leroy Merlin, HSBC, Fnac, Dear Muesli, De Neuville, All Tigers, etc.
Online Markstrat strategic marketing simulation: identify and implement marketing strategies for products intended for two different markets
Product manager simulation: Solve a marketing issue concerning the positioning of a brand and its reach among the target audience
PARTNER COMPANIES INVOLVED CLOSELY WITH THE PEDAGOGY
Marketing studies:
Dunnhumby • GfK Consumer Experiences • IRI France • Kantar WorldPanel • Nielsen France • Sémiosine • Sorgem Advance
Fast-moving consumer goods marketing:
Amazon • Danone • E. Leclerc • Ferrero • Givaudan Consumer Products • GSK Santé Grand Public • Henkel •McDonald's • Nestlé • Pizza Hut • Reckitt Benckiser • Ubisoft • United Biscuits • PepsiCo
Packaging, advertising and media agencies:
G+B Collectif de Design de Marque• Lex Publishing • Makheia Affinity • Ogilvy & Mather • Paramount Pictures • Wunderman
Consulting firms:
Décision'elle • Flexter •IMPP • Sparkling Way • Stratégies créatives • Studyline
Professional thesis
The professional thesis is a project whose purpose is to identify an issue important to companies and respond to it by using a conceptual approach and empirical research. This project must lead to practical recommendations for companies. Its additional purpose is to help students acquire technical expertise while also developing important soft skills for the job market: critical thinking, complex problem resolution, etc.
Evaluation procedures
The programme is recognised through a dual validation:
Ongoing assessment: evaluations conducted throughout the length of the programme in the form of individual or collective reports to be submitted
A professional thesis: submission of a written document and an oral defence before a jury made up of an academic tutor and a company tutor
At the end of the programme and after a validation of the ongoing assessment and professional thesis, the Level-7 RNCP of Marketing Manager degree is awarded to the participants.
If some modules were not validated and thus no credits were earned, the programme participant can redo the evaluation during a period set up for this purpose.
The part-time format allows you to remain at your company and promotes your entry and development in the professional world.
Targeted professions
Product/Brand Manager
Digital Product Manager
Innovation Project Manager
Marketing Researcher/Consumer Insight Manager
Consultant/Marketing Analyst
Data Analyst/Digital Web Analyst
CRM Project Manager/Customer Experience Manager
Category Manager/ Trade Marketing or Merchandising Manager
Operational Marketing/Digital Marketing Manager
Our students positioned in companies
Students from the class of 2022 have professionalisation contracts in the companies :
LACTALIS – CLARINS – UBISOFT- CARREFOUR – CHANEL – BEL – DANONE – LESIEUR – CANDIA – KIMBERLY CLARK – SANOFI – E. LECLERC – COCA-COLA – SOLINEST – MONOPRIX – ARKEMA – L'OREAL – LOUIS VUITTON – HEINEKEN – MC DONALD'S – SEB – NESTLE – OMEGA PHARMA – ORANGINA – ESTEE LAUDER – SEPHORA – SYMRISE – GSK – MERCEDES BENZ – BEIERSDORF…
Performance indicators
88%
Satisfaction rating
on instruction
1,5 month
Average time taken
for job search
96%
Employment rate
at 6 months
Source: Course Assessment 2020-2021,
Graduate Employment Survey 2019, 2020 & 2021, Jury 2020-2021
Three minutes to apply to the Specialised Master – advice from Coline Berthier, Sales & Recruitment Manager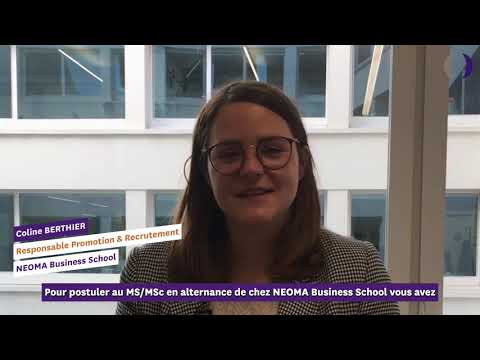 Eligibility
This programme is intended for young graduates who want to develop a specialisation or earn a double skill and professionals who want to complement their skills.
We accept applications from students holding one of the following diplomas :
Engineering degree accredited by the « Commission des Titres d'Ingénieur » (CTI list)
Degree from a Management School accredited to deliver the national « Grade de Master » (CEFDG list)
Postgraduate degree accredited by university authorities (DEA, DESS, Master's degree, etc.) or a professional Master diploma
4-year Bachelor's degree or equivalent, for students with at least three years of professional experience (apart from internship and work/study contract)
Level-7 RNCP certification
International degree equivalent to the required French degrees noted above
This programme is accessible to people with disability.
Apply
1st step: Application
You need to fill out the application online.
You must include the required documents:
CV
Two letters of recommendation
Marks from your last two academic years
Level of English*
*If the applicant does not have results from an English exam (B2 level), the recruitment manager can have the applicant take an online test.
The selection jury will decide on an applicant's admissibility after reviewing their application.
The applications must be finalised no later than ten days before the date of the interview.
2nd stage: Admission tests
Applicants deemed admissible after review of their applications then have a motivation interview.
Definitive admission is announced to each applicant at the end of these two stages and within seven days following the date of the motivation interview.
Calendar
Motivational interviews take place once or twice a month from January to July. The schedule of admission session dates for the 2023 school year will be published later. The final admission is communicated to each candidate within 7 days of the date of the motivation interview. Application fee: 100 €
For more information, contact our international team:
Practical information
Format:

Part time (One week of lessons, two weeks in the business)

Duration:

12 months

Tuition fees:

€17,300

Campus:

Paris

Teaching language:

French

Course start date:

September 2023

Entry level:

Master's Degree / Four-year Bachelor's degree + 3 years of professional experience (apart from internship and work/study contract) / Four-year Bachelor's degree (30% of class)

Degree awarded:

Specialised Master accredited by the "Conférence des Grandes Ecoles" / Level 7 Qualification on the RNCP (French Register of Professional Certifications) / RNCP sheet No. 19220, Marketing Manager
close-icon
Ranking
1 st rank
Eduniversal ranking 2022 of the best Masters, AM and MBA - Marketing category
close-icon
Practical information
Practical information

Format:

Part time (One week of lessons, two weeks in the business)

Duration:

12 months

Tuition fees:

0€

Campus:

Paris

Teaching language:

French

Course start date:

September 2023

Entry level:

Master's Degree / Four-year Bachelor's degree + 3 years of professional experience (apart from internship and work/study contract) / Four-year Bachelor's degree (30% of class)

Degree awarded:

Specialised Master accredited by the "Conférence des Grandes Ecoles" / Level 7 Qualification on the RNCP (French Register of Professional Certifications) / RNCP sheet No. 19220, Marketing Manager