open alert
WEBINAR: Learn all about NEOMA's Part Time Masters of Science I Thursday 9 February, 2023 at 6 PM French Time
Register now!
alert close
Programme presentation 
The programme trains financial analysts on international finance who are able to function in unstable and complex environments
The techniques taught in the programme explain and clarify the reality of various businesses in order to establish a rigorous financial assessment framework and trace value creation for banks, investors, manufacturers and the company itself.
The pedagogy employs a comprehensive interactive blend of professors and professionals with permanent simulations and role-playing scenarios.
Lastly, because the corporate world must adapt to changes and risks, the programme includes extra-financial elements and soft skills that round out the financial analysis curriculum.
5 good reasons to join the programme
A programme with more than 15 years of experience in close contact with finance professionals.
Acquire a comprehensive managerial vision of all the elements of the value chain and its interactions.
Close collaboration with renowned companies and professionals and a perfect combination of financial and non-financial subjects.
Ongoing cooperation between the professional and academic spheres.
Access to an extensive network of active graduates around the world.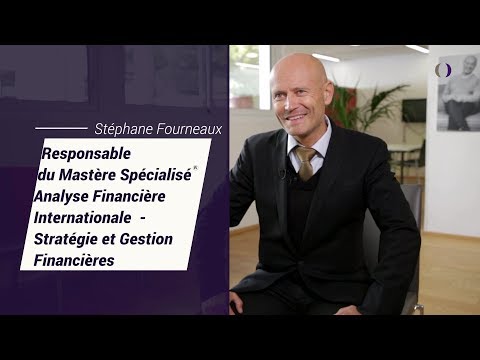 Stéphane Fourneaux, PhD, EMBA
Head of the International Financial Analysis programme
Gain a 360° view of international finance
Programme objectives
By entering our programme, you will develop the key skills needed to have a career in financial analysis through a curriculum recognised in the world of international finance.
The programme focuses on a solid academic curriculum taught by professors on the cutting edge of techniques, coupled with a strong dimension of practical knowledge through workshops given by recognised specialists and professionals from all banking, financial and market sectors.
Programme highlights
"Learning by doing"
"Learning by doing" to master different forms of expertise emphasising experience-based learning, this approach helps develop the ability to learn and grow in uncertain environments. This learning combines methods, knowledge and experience through simulations, serious game, case studies, role playing, etc.
Hackaton
Jointly organised with the students of the MSc Supply Chain & Transformation Digitale and with the support of the NEOMA BS Mobility Accelerator, this 48-hour hackathon is a unique opportunity for the students of the programme in finance to raise the financial, logistical and technological challenges related to digital transformation. This challenge takes place both face-to-face on the Paris campus and online via collaborative work tools. The aim is to mobilise the knowledge and skills that the students have acquired during the course in a context of intense emulation and in teams.
Corporate meetings
Conferences are organised in collaboration with companies and professionals. They deal with subjects such as financial communication, individual shareholding, FinTech, etc. These meetings offer an opportunity to talk with conference speakers and listen to them share their experiences.
Adapted programme for high-level athletes and artists
High-level athletes and artists may benefit from an adapted programme in order to pursue both their studies and their passion.
Skill sets
The programme enables graduates to:
Strengthen the necessary information necessary to carry out a financial analysis
Analyse the company environnement on a national and international level
Analyse a company financial situation
Suggest, implement and follow financial decisions by minimising risks
Professional thesis or dissertation*
Based on a business problem, the thesis marks the end of the programme with a practical application of the acquired skills and concepts. An academic tutor supervises the thesis over several stages and points (methodology, progress report, etc.) before its final submission and oral defence.
*As part of the MSc preparation, the professional thesis is replaced with a professional dissertation.
Evaluation procedures
The programme is recognised through a dual validation:
Ongoing assessment: evaluations conducted throughout the length of the programme in the form of individual or collective reports to be submitted
A professional thesis for the MS and a professional dissertation for the MSc: submission of a written document and an oral defence before a jury made up of an academic tutor and a company tutor
At the end of the programme and after a validation of the ongoing assessment and professional thesis, the Level-7 RNCP of "Analyste Financier Internatonal" degree is awarded to the participants.
If some modules were not validated and thus no credits were earned, the programme participant can redo the evaluation during a period set up for this purpose.
Careers
The proximity between the programme and the major players in international finance guarantees you lasting employability through a recognised diploma.
A variety of career opportunities
Become a corporate financial analyst who masters the balance between technical skills and humanity!
Financial analyst
Financial consultant
Financial and administrative director
Treasury manager
Management controller
Import/export financing manager
Merger/acquisition manager
Financial reporting manager
In the following areas:
Research : Sell-Side & Buy-Side analyst; Rating analyst ; Fund/Multi-management analyst ; SRI/ESG analyst…
Asset Management: Portfolio management Equity, fixed-income…
Sales/Marketing/Reporting : Sales; Product Specialist/Benchmark; specifications analyst; RFP/Q (Request for Proposal/Quotation ); Marketing (Mutual Funds); Investor Relations
Front Office: Sales (Equity, Fixed Income, Derivatives…); Structured Products…
Middle Office: Contract Manager; Internal Auditor
Risk Management: Market Risk Analyst; Credit Analyst; Counterparty Risk Analyst; Fund Analyst, ESG Analyst…
Close ties with the professional world
Students from the class of 2023 have professionalisation contracts in companies such as:
AMUNDI ASSET MANAGEMENT – BANQUE POPULAIRE – CORUM ASSET – CREDIT AGRICOLE – DATAGRAM – DELOITTE FINANCE – FINANCE PLUS – MY MONEY BANK – SOCIETE GENERALE – WORMSER FRERES GESTION – etc.
Performance indicators
92%
Satisfaction rating
on instruction1
1 month
Average time taken
for job search2
98%
Employment rate
at 6 months2
Sources: 1 Course Evaluations 2021-2022 | 2 Graduate Employment Survey average 2020-2022 | 3 Jury 2020-2021
Admissions
The programme is intended for students or professionals from financial departments in all types of industries who want to specialise or earn a dual-skills degree.
We select enthusiastic participants who want to acquire hard skills in financial analysis and enhance their soft skills (creativity, leadership). We help them cultivate their particular qualities that set them apart and develop their ability to learning and be creative. We also put emphasis on their personal development, their communication skills and their critical-thinking abilities. We look for the right balance between technical skills, soft skills, ethics and sustainability.
Eligibility
Entry level
Year 1
Year 2
Degree

Master's Degree
Four-year Bachelor's degree + 3 years of professional experience (apart from internship and work/study contract)
Four-year Bachelor's degree (30% of class)*

 
Part-time Advanced Masters
« Specialised Master accredited by the « Conférence des Grandes Ecoles »


Four-year Bachelor's degree
Three-year Bachelor's + 3 years of professional experience (apart from internship and work/study contract)
Part-Time Master of Science
Master of Science / Level-7 RNCP certification
After a three-year Bachelor's degree
Preparatory Year
Part-Time Master of Science
Master of Science / Level-7 RNCP certification
*We accept applications from students holding one of the following diplomas :
Engineering degree accredited by the « Commission des Titres d'Ingénieur » (CTI list)
Degree from a Management School accredited to deliver the national « Grade de Master » (CEFDG list)
Postgraduate degree accredited by university authorities (DEA, DESS, Master's degree, etc.) or a professional Master diploma
4-year Bachelor's degree or equivalent, for students with at least three years of professional experience (apart from internship and work/study contract)
Level-7 RNCP certification
International degree equivalent to the required French degrees noted above
This programme is accessible to people with disability.
Apply
1st step: Application
You need to fill out the application online.
You must include the required documents:
CV
Two letters of recommendation
Marks from your last two academic years
Level of English*
*If the applicant does not have results from an English exam (B2 level), the recruitment manager can have the applicant take an online test.
The selection jury will decide on an applicant's admissibility after reviewing their application.
The applications must be finalised no later than 10 days before the date of the interview.
2nd stage: Admission tests
Applicants deemed admissible after review of their applications then have a motivation interview.
Definitive admission is communicated to each candidate within 7 days of the date of the motivation interview. Application fee: 100 €
Calendar
Motivational interviews take place once or twice a month from January to September. The schedule of admission session dates for the 2023 school year is the following :
Thursday, February 9th 2023
Thursday, February 16th 2023
Thursday, March 9th 2023
Thursday, March 23rd 2023
Testimonial
Héloïse POLBOS - MSc International Financial Analysis - Gulbenkian Class of 2023 - Assistant Management Controller - BVLGARI
Read testimony
Louis TRIBOUILLET - MSc International Financial Analysis - Gulbenkian Class of 2023 - Private Equity Analyst - IDIA Capital Investissement
Read testimony
For more information, contact our international team:
Practical information
Format:

Part time (One week of lessons, two weeks in the business)

Duration:

12 months

Tuition fees:

€17,300

Campus:

Paris

Teaching language:

French

Course start date:

September 2023

Entry level:

From 3-Year Bachelor's degree to Master's degree (see Admissions tab)

Degree awarded:

RNCP (French Register of Professional Certifications) Registered Level 7 Qualification and according to the chosen course Advanced Master (AM) accredited by the "Conférence des Grandes Ecoles" or Master of Science / RNCP sheet No. 34299, International Financial Analyst
close-icon
Ranking
8 th rank
Eduniversal ranking 2022 of the best Masters, AM and MBA – Financial Market and Portfolio Management category
close-icon
Practical information
Practical information

Format:

Part time (One week of lessons, two weeks in the business)

Duration:

12 months

Tuition fees:

0€

Campus:

Paris

Teaching language:

French

Course start date:

September 2023

Entry level:

From 3-Year Bachelor's degree to Master's degree (see Admissions tab)

Degree awarded:

RNCP (French Register of Professional Certifications) Registered Level 7 Qualification and according to the chosen course Advanced Master (AM) accredited by the "Conférence des Grandes Ecoles" or Master of Science / RNCP sheet No. 34299, International Financial Analyst