open alert
WEBINAR : Discover the Master in Management | December 8, 2022 - 3pm (Paris time)
Join us !
alert close
Embrace the future together
The Master in Management programme aims to prepare high-potential managers and entrepreneurs who are able to take initiative and create value in a multicultural world.
When joining the programme you will develop an overall vision of the company and understand how its different functions work together. This cross-functional approach turns you into an expert in management, capable of managing effectively while developing your leadership skills.
Through expertise tracks such as the "Chartered Financial Analyst (CFA®)", "Financial Markets and Technologies with GARP" or "Accountancy, Consulting and Auditing" tracks as well as NEOMA Master of Science double diplomas or those offered at our partner schools in France and abroad, you will receive training in advanced expertise (finance, CSR, HR, marketing, etc.).
You will have a unique international experience in academic exchanges with 390 prestigious partners as well as through internationally immersive tracks that you can take abroad in your second year.
The NEOMA MiM programme is nationally and internationally recognised and offers excellent professional prospects. Its quality can be seen in the advances it has recently made in national and international rankings.
5 good reasons to join the Master in Management programme
Excellence recognised in French and international rankings : 30th rank Financial Times worldwide "Masters in Management 2021" ranking.

Genuine international immersion with up to eight semesters done abroad, international excellence and expertise tracks, internships, academic exchanges, an English track, Global Incubator, etc.

Expertise tracks for exploring and enhancing your skills

Diverse offer of double and triple diplomas in France and abroad: CentraleSupélec, AgroParisTech, Tongji University (China), Politecnico di Milano (Italy), INCEIF (Malaysia), etc.

A powerful professional network: +250 partner companies and 68,700 alumni in 127 countries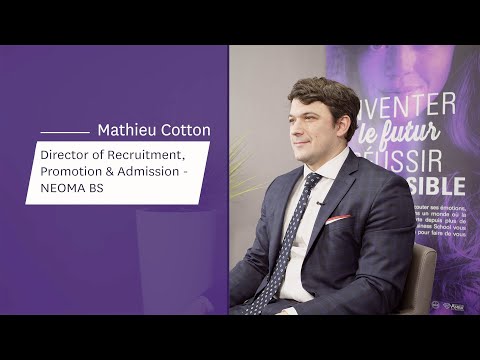 For more information, download the brochure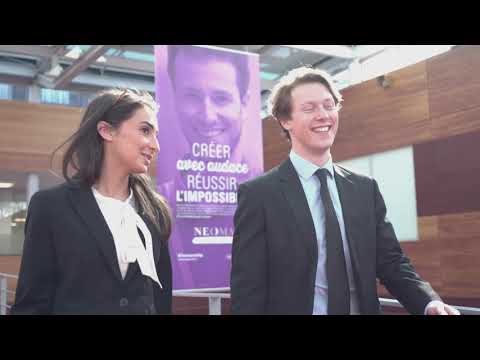 "Preparing our students to become actors in the positive transformation of companies is the objective of the Master in Management programme at NEOMA. Our MiM programme plans for societal changes and addresses the challenges of the 21st century through three key factors: societal challenges, tomorrow's professions and sustainable transition."
Curriculum Objectives
The Master cycle is structured over two or three years.
Master 1 allows you to organise a coherent professional plan, consolidate your management skills and develop cross-functional skills in management. The core courses (strategy, operations management, human resources, finance, marketing, etc.) are coupled with more experience-based pedagogy in management, negotiation and sustainable development. Your professional projects can be organised in France or abroad through specific tracks, initial training or apprenticeships (the Apprenticeship Track is subject to a selection process after admission). You can choose to do the Master 1 year in one or two years. Two additional semesters, for example, give you the opportunity to accrue additional professional experience or different experience (NGOs, socially committed actions, etc.) in France or abroad.

In the Master 2, you can develop your level of expertise by selecting a specialisation among a wide range of choices: apprenticeships (the Apprenticeship Track is subject to a selection process after admission), professionalisation contracts in part-time Advanced Master programmes, double or triple diplomas with our full-time Master of Science programmes or double diplomas in France or abroad.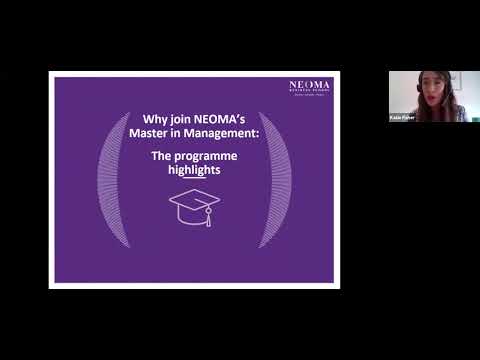 Programme highlights
The two or three years in the Master in Management programme allow you to develop a project adapted to your personal and professional ambitions.
Year 1: build a plan that excites you
Our traditional tracks
Transform your knowledge into skills
Strengthen your ability by acquiring the fundamentals of genuine cross-functional management, so as to plan your career and give yourself a head start on your competitors in the employment market
Take courses, applying the fundamentals of management to a specific sector or a "non-traditional" management function such as marketing… in a bank, or management control… in an opera house
Continue to build upon and structure your knowledge during an international semester at one of our 390 partner universities
Take the introductory courses to familiarise yourself with your final-year
Our specific tracks
Our Chartered Financial Analyst track (CFA®) (Reims Campus – in English)
This track is culminates with the MSc International Finance with the track "Corporate Finance and Investment Banking". This prestigious programme, offered on the Reims campus, allows you to:
Pass from two to three levels of the CFA® (Chartered Financial Analyst), professional qualification in financial expertise for the CFA® Institute
Train successfully for the professions of financial analyst and portfolio manager
Through this alliance, our School has joined the select circle of partners of the CFA® Institute, around one hundred organisations around the world, including the best business Schools.
Our Accountancy, Consulting and Auditing track (Rouen and Reims Campus – in French)
This track, designed with the 5 largest auditing firms (Deloitte, EY, KPMG, PwC, Mazars) is recognised for its high quality. This track allows students to follow several internships in companies.
Our Financial Markets and Technologies track (Rouen Campus – in English)
The objective of the programme is to prepare students for a challenging and rewarding career in financial risk management, the science of measuring risks, and the art of managing them. Learn how to effectively communicate risk to stakeholders. Immerse in real case studies (capstone seminar, financial simulation, MSc Project). Prepare for the Financial Risk Manager® professional certification (FRM) and benefit from the partnership with the Global Association for Risk Professional (GARP), the largest professional association in Finance. This excellence track ends with the MSc International Finance.
Year 2: Up to 70 tracks to develop your skills through your passions
In the final year, you will strengthen your expertise with one of our excellence tracks and have the choice of one of our Master of Science programmes, allowing you to obtain a double degree.
Finance
Marketing
Management & Strategy
MSc Sustainability Transformation (coming in 2023)
Sector Expertise
Full time & part time advanced masters
Our dual-skill/double-diploma track
This part of the programme takes place outside the School at a partner institution and replaces the on-campus, end-of-curriculum specialisation. It offers you the opportunity to develop a specific skill, bringing exceptional added value to your CV. It is open to all our students.
Sports, engineering, project management, art… these programmes are set up around our partnerships with renowned establishments and our other programmes. We aim to : offer you the widest possible range of choices for your specialisation.
MASTERS AND SPECIALISED MASTERS AT PARTNER ORGANISATIONS:
Skill sets
A graduate from the Master in Management programme at NEOMA Business School is a manager who can adapt to any international context and perform the following activities:
Manage a business unit and develop it in different sectors of activity
Manage complexity
Manage in a global and multi-sectorial environment
Develop a creative vision and create value in projects and processes
Find the full list of skills for the Master in Management programme registered at the National Directory of Professional Certifications (RNCP): RNCP sheet no. 22162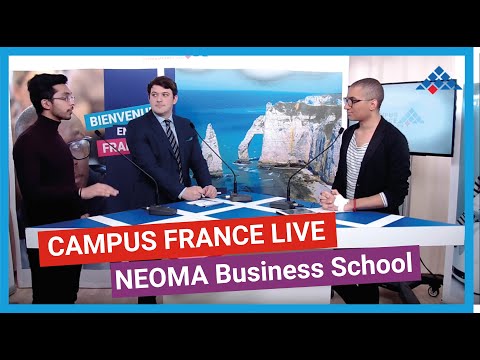 Evaluation procedures
The programme is recognised through a dual validation:
Ongoing assessment: evaluations conducted throughout the length of the programme in the form of individual or collective reports to be submitted,
A final evaluation: performed at the end of the course, it can be done under different forms – it is, for the most part, individual
At the end of the programme and after a validation of ECTS credits per programme year, the level 7 of MIM is awarded to participants.
If some modules were not validated and thus no credits were earned, the programme participant can redo the evaluation during a period set up for this purpose.
Professional experience
The multi-function skills that NEOMA BS graduates have to offer, coupled with top-level specialist knowledge, result in an especially attractive employment profile upon graduation from the school, and throughout their careers.
Professional experience during your studies is essential because it will:
Provide you with the opportunity to put your theoretical knowledge into practice
Help to develop your career plan
Give excellent added value to your CV
Internships
The Master in Management provides for at least 10 months of internships :
A 6-month internship during the second and third years,  will confirm and refine your career plan and may well help you find your first job
You can apply for the numerous offers that companies advertise directly through the School, or you can look for a business or contract that suits you best.
Our entrepreneurship track
Do you have an entrepreneurial project in mind? The entrepreneurship track is made for you. Offered in your second year, this selective track allows you to focus on your own entrepreneurial project.
Your specially adapted timetable enables you to follow courses in the morning and work on your entrepreneurial project in our incubator in the afternoon.
By choosing this track, you can:
Put your skills to everyday use
Take on responsibility
Participate actively in school life and promote inter-cohort links
This track is also offered to high-level athletes
Support
The mission of the Talent & Career unit is to help and advise you with the various procedures, to prepare you for a successful, lasting transition into employment.
Experience real international immersion
With the Master in Management programme at NEOMA, you can travel in small groups to study and explore a country and develop a unique track adapted to your personal and professional ambitions.
International experience at the centre of NEOMA:
Develop in a multicultural environment with more than 1,000 international students studying in the MiM programme every year
Participate in internships and other professional experiences abroad
Choose an international track focused on acquiring geographic expertise or advanced expertise in a profession abroad
Interact with an international faculty: 72% of professors and course contributors are international experts in their respective fields
This international reach is confirmed by triple AMBA/EQUIS/AACSB accreditation given to only 1% of business schools in the world.
Up to 4 semesters abroad
Have an international experience that matches you!
In Master 1: you have the possibility to do an academic semester abroad at one of our partner schools through our « Global 1000 programme », should you choose to do your Master 1 in two years instead of one.

In Master 2: you can choose a double or triple diploma with an international academic partner (« Global double degree » programme) or have a unique experience in the Global Incubator programme – see below)
NEOMA Business School makes a major, strategic commitment: expanding its international development on the five continents with 400 high-level partners. The aim of these exchanges is for students to discover a country, language and culture in situ.
The Master in Management programme relies on NEOMA's special network of international partners, selected for their quality and reputation. Saint Gallen (Switzerland, FT #1), Deakin University (Australia), FGV (Brazil), Rotterdam School of Management (The Netherlands), University of Mannheim (Germany), POLIMI Graduate School of Management (Italy), BI Norwegian School of Management (Norway) and Singapore Management University (Singapore), to name a few.
Focus on "Global Internship":
This programme started by NEOMA with ten other prestigious business schools in Europe, Asia, North and South America, Oceania and the Middle East allows students to go abroad and join the incubator managed by one of our partners and take innovation and entrepreneurship courses at one of the universities in this international consortium (UC Berkeley, Hong-Kong Baptist University, FGV, etc.). It's a unique opportunity to breathe life into your company creation project during your studies by taking advantage of the expertise of a renowned institution and discovering a dynamic entrepreneurial ecosystem that is culturally different from the French system. It's an ideal experience for creating a "born global" start-up and addressing international concerns!
The Global Incubator partnered with a prestigious institution : the reknown and historical institution of UC Berkeley. Students will get the unique opportunity to spend 6 months in Silicon Valley in one of the most distinguished universities in the world. They will be able to launch their business projects through LeBridge Program.
The Bridge program is a year-long program for students and young graduates looking to become successful entrepreneurs. This program is divided into two parts: the first part at UC Berkeley and then at Schoolab Accelerator. During the first 4 months, students will learn about entrepreneurship by taking hands-on classes and by launching their own venture. This first part takes place at the Sutardja Center for Entrepreneurship & Technology (SCET), located within the College of Engineering of UC Berkeley. At the end of this first part, students will have the opportunity to be incubated at Schoolab in order to scale their business in France or in the United States. This program gathers students with different backgrounds to create diverse teams, as such NEOMA students enrolled in Le Bridge program are mixed with young entrepreneurs coming from other French and international schools. By the end of the program, students have developed the right mindset to be a successful entrepreneur, explored different ecosystems, grown their network, and have launched a new business.
Choose an international double diploma
To show your interest and ambitions in a particular area of the world, you can pursue your Master 2 in one of the partner universities and earn the diploma from this institution in addition to the Master in Management degree.
IN ASIA
Japan :
China :
Tongji University – MSc Corporate Management | MSc Technology, Economy & Management | MSc Management Science & Engineering
National Tsing Hua (Taiwan) – MIM (Spécialités Economics | Quantitative Finance | Service Science | Technology Management) | IMBA | MSc Industrial engineering & Engineering management
National Sun Yat Sen (Taiwan) – MBA Business Management | MBA Global HR Management
National Taïpei (Taiwan) – MBA in Finance
Vietnam :
Indonesia :
IN AMERICA
Mexico :
UDLAP – Master in Management
IN EUROPE
Czech Republic :
Germany:
Europa University Viadrina – Master in Marketing & Management | Master in Finance | Master in Finance and Accounting | Master in Industrial Operations Management
Italia :
University di Bologna – Campus Forli – Master in Economics and Management – Business Administration (Anglais) | Master in Economics and Management – Food System Management (Anglais) | Master Economia e Management (Italien) | Master Economia e Commercio (Italien) | Master Management de l'economia sociale (Italien)
Austria
Ireland
University of Limerick – MSc in Economics & Policy Analysis | MSc Project Management | MSc Marketing Consumption & Society | MSc International Management & Global Business |MSc Human Resources Management
Portugal
Choose an international triple diploma
IN EUROPE
Ireland :
Germany:
Italy :
MIP Polimi – International Luxury Management – IMLUX
IN AMERICA
United States :
The Master in Management, driver of your success
The solid, cross-functional skills acquired through the Master in Management degrees offered by NEOMA Business School, combined with a double diploma, provide students with maximum employability right after graduation and throughout their careers
With nearly 150 years of history, the Master in Management programme relies on one of the strongest and most connected networks (more than 65,700 alumni in 127 countries)
Targeted Professions
Sectors of activity
Graduates are hired by a large number of companies from diverse sectors:
Consulting & Auditing
Banking/Insurance
Industries (agri-food, automotive, aeronautic, luxury, etc.)
Communication/Media/Advertising
Sales/Distribution
Type of accessible employment
Examples of accessible starting positions:
Audit: auditor
Finance: financial analyst (M&A, transaction services, sell side, buy side, etc.), financial controller, risk analyst, portfolio manager
Marketing/Communication: product manager, communication manager; digital manager
Business & Development: sector manager, account manager, sales consultant, business manager, sales director, customer portfolio manager
Consulting: strategy consultant, innovation and digital transformation consultant, e-commerce consultant
Business founder, SME-SMI manager
Supply chain management: purchasing manager, supply chain manager
Several examples of companies who recruit NEOMA MiM graduates
PwC, BNP Paribas, EY, KPMG, Deloitte, Accenture, Crédit Agricole, L'Oréal, Chanel, Orange, PSA, BPCE, Axa, Mazars, Renault, EDF, Nestlé, SNCF, TOTAL, HSBC, LVMH, Bouygues, Cora, Champagne Taittinger, Danone, Unilever, Procter & Gamble, Natixis, Capgemini, Valeo, General Electric, Mondelez International, Michelin, Sanofi, LCL, JP Morgan, Alstom, IBM, Air France, KLM, McDonald's, CSC, CGI, Carrefour, CIC, SFR, Yves Rocher, Auchan, Philips, BearingPoint, Accor, La Poste, Siemens, Thales, Beijaflore, Crédit du Nord, Henkel, Google, Deutsche Bank, Oresys, Hermès, Hewlett Packard, BMW, Barclays, Veolia, Décathlon, Chanel, Atos, Crédit Suisse, Crédit Mutuel, Walt Disney, Pernod Ricard, Veepee (Vente-privee.com) etc.
A solid alumni network is at your disposal after your studies
NEOMA Alumni is an association of NEOMA Business School graduates, one of the largest networks to come out of the Grande École programmes in France.
At the end of your studies, NEOMA Alumni and its Career Centre are there to support you throughout your professional career in all its phases.
Every year NEOMA Alumni organises more than 300 events (conferences, networking workshops, etc.) through its 26 professional clubs (sectorial or functional). The network also helps to drive the careers of graduates through promotional activities and the various networks of major companies that are always recruiting. More information on: www.neoma-alumni.com/
Performance indicators
76%
Satisfaction rating
on instruction1
1 month
Average time taken
for job search2
97%
Employment rate
at 6 months2
35%
Graduates starting
their career abroad​​4
44k€
Average
gross salary4
Sources: 1 Course Evaluations 2020-2021 | 2 Graduate Employment Survey average 2020-2022 | 3 Jury 2020-2021 | 4 Graduate Employment Survey 2022
Join our Master in Management
Admissions
In order to apply for our Master in Management – Grande Ecole programme you need:
A Bachelor's Degree from a non-French Institution with at least 3 years of education (and two of them outside of France).
Complete the online application, selecting the Master in Management
English track: IELTS 6.0, TOEFL 83, Cambridge FCE 175, Duolingo 105; GMAT or GRE recommended.
French track: French B2 level and IELTS 5.5 or equivalent; TAGE MAGE recommended
Admission process
Once an application is complete and submitted, the admissions team will process the file and contact you if we need any additional documents or content
Candidates who meet all the entry requirements and have a complete file will be interviewed by Skype or in person on one of our campuses on the following dates :

December : 1st – 8th
January : 12th – 19th – 25th
February : 9th – 14th – 28th
March : 2nd – 7th – 8th – 13th – 21st – 24th

The Admissions Committee will meet within one week after the interview
Candidates are informed by email of the admissions jury decision
Students are advised to sit their tests as early as possible to obtain admission results in time for visa procedures.
Scholarships
Excellence scholarships for the best international students!
NEOMA Business School supports and encourages the best international students to enter its programmes via an ambitious programme of excellence scholarships.
This scholarship and financial aid programme helps the best international profiles enter one of the programmes offered by the school. Determined based on the academic excellence and professional and personal achievements, the excellence scholarships aim to attract the best foreign students.
Excellence International Scholarships MIM – admission in M1
Excellence scholarships at recruitment : Positioning under one week – for 1st year only : €3,000
Keep in mind! The number of scholarships is limited and act as reductions in tuition.
French applicants
Website : https://www.ecricome.org/
Ecricome Prépa exam (open to CPGE ECE, ECS and ECT students):
Admission to first year of Master in Management
A total of 690 places are open on our two campuses
Exam registration is done on the Ecricome website from 9 December 2022 to 10 January 2023
Ecricome Literature Exam (open to AL, ENS Lyon and BL/SES students):
Admission to first year of Master in Management
A total of 90 places are open on our two campuses
Exam registration is done on the Ecricome website from 9 December 2022 to 10 January 2023
Ecricome Tremplin 1 Exam (open to students who earned or are about to earn a two-year higher education degree: BTS, DUT, Licence 2, advanced mathematics or ENS Cachan):
Admission to first year of Master in Management
A total of 220 places are open on our two campuses
Exam registration is done on the Ecricome website from 9 December 2022 to 10 January 2023
Ecricome Tremplin 2 Exam (open to students who earned or are about to earn a three/four-year higher education degree: three-year certificate, Master 1 and 2, three-year degree, RNCP certification, three/two-year Bachelor, DCG, DUETI/DUETE or professional certificates):
Admission to second year of Master in Management
A total of 405 places are open on our two campuses
Exam registration is done on the Ecricome website from 9 December 2022 to 10 January 2023
For any questions, please contact: admissions@neoma-bs.fr
For more information, contact our international team:
Mariceli BLIN
Africa & Middle East
Xiaotong POIRREE
Eastern Europe & Central Asia
Anya Angélica CÁRDENAS
Latin America
Sihem BRIKCI
Western Europe, USA & Canada
International Promotion and Admissions Manager
sihem.brikci@neoma-bs.fr
(+33) 3 26 77 88 60
Make an appointment
Practical information
Format:

Full time or apprenticeship (apprenticeship track is subject to a selection process after admission) (in two years with a Master 1 or in one year with a Master 2)

Duration:

2 to 3 years

Tuition fees:

Full Time : 15 300 € per year
Apprenticeship  : financing provided by the employer and remuneration according to profile

Campus:

Reims, Rouen

Teaching language:

French or English track

Course start date:

September 2023

Entry level:

3-year higher education degree/4-year higher education degree

Degree awarded:

Master's degree, "Grade de Master" / Level 7 Qualification on the RNCP (French Register of Professional Certifications) / RNCP sheet No. 22162, Master in Management
close-icon
Ranking
5 th rank
2022 Le Point Magazine Ranking
6 th rank
Challenges Best French Business Schools Ranking 2022
15 th rank
The Economist - Masters in Management 2021
32 nd rank
Financial Times "Masters in Management 2022" Ranking
close-icon
Practical information
Practical information

Format:

Full time or apprenticeship (apprenticeship track is subject to a selection process after admission) (in two years with a Master 1 or in one year with a Master 2)

Duration:

2 to 3 years

Tuition fees:

0€

Campus:

Reims, Rouen

Teaching language:

French or English track

Course start date:

September 2023

Entry level:

3-year higher education degree/4-year higher education degree

Degree awarded:

Master's degree, "Grade de Master" / Level 7 Qualification on the RNCP (French Register of Professional Certifications) / RNCP sheet No. 22162, Master in Management