Programme presentation
The digital transformation of companies is underway and its impact is felt at all levels of every company. The managers of these companies are now aware of the importance of developing digital tools and how this development provides a better response to their customers. Consumers today are changing in an omni-channel context, and this far-reaching change has given rise to new rules to the game among the different players. The customer path has grown more complex, pushing companies to rethink their experience concepts.
Possessing solid control over available data has become one of the major challenges in this digital transformation, requiring the creation of a real data culture in the centre of customer relations. This data culture involves a data-driven approach used to organise data in order to better assess consumers.
This new paradigm aims to offer brands the ability to analyse diverse data available through smart recommendations so they can strengthen customer relations. These upheavals in the sector point to the need of marketing teams to possess new analytical skills, which are highly sought by companies.
5 good reasons to join the programme
The analytical skills used for marketing that are acquired in this Specialised Master are perfectly matched to the skills that companies expect their employees to possess.
Programme recognised as being among the best in its field of expertise: No. 1 in France (2022 Eduniversal Ranking of Best Masters, AM and MBA).
A training programme that combines marketing, technology and data for marketing decision-makers ready to meet the challenges of the digital transformation.
Close collaboration with the most advanced companies in database usage: IBM, SAS, Microsoft, Tableau, etc.
A work-linked training programme that boosts entry in the professional world and tuition funding assured through professionalisation contracts.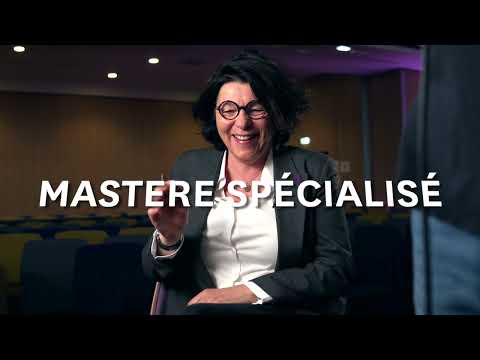 Intelligence Data & Performance Marketing
Programme objectives
The programme sits at the junction between marketing, technology and predictive approaches. It is designed to train experts who can integrate data analysis to provide an optimised customer experience.
The programme's objective is to enable students to:
Master analytical methods that employ a perspective involving the smart usage of data in order to solve current marketing problems.
Develop a data-driven culture so they can incorporate a customer culture into the company.
Master data extraction and analysis through the use of the right tools (SQL, PYTHON, R).
Guide, measure, adjust offers and customer relations (Decision optimisation through data visualisation).
Define the KPIs and manage the marketing budget.
Skill sets
This Specialised Master is intended for students and professionally active managers who want to undertake additional training and specialise in all the professions associated with marketing and data analysis. Its part-time schedule is compatible with professional activity.
This programme enables students to:
Develop a customer-centric marketing strategy in a data-driven environment
Analyse massive data to monitor the implementation of the customer-centric marketing strategy
Conquer and/or develop customer loyalty through a CRM tool
Design tools to visualise customer relationship performance
Manage the financial and human resources dedicated to customer relations
This programme is accessible via the « VAE » (awarding a qualification based on relevant professional experience).
Programme highlights
Cross-functional business case
At the end of the programme, students will work on a multi-day business case. The objective of this project is to respond to a marketing problem while using all of the skills acquired in the programme (from data recovery to marketing recommendations).
Over the previous three years, we have collaborated with Converteo, Numberly and, most recently, Dentsu.
Hackaton with DATAIKU, french unicorn of data analysis
The students of the Advanced Masters (AM) Marketing and Data Analytics end the year with a Hackathon with Dataiku, a French unicorn specialising in Data Science. During three intensive days, students become Data Analyst. They learn to master the Dataiku DSS tool, an integrated development platform intended for data professionals which allows data to be efficiently converted into predictions. During this competition, the students put into practice their knowledge acquired during the course; they demonstrate their analytical skills, thus serving the company by solving a concrete case through the use of data. Do you wish to know more about it? Read here
Ultra-connected company tours
The PwC Delta Room combines cutting-edge technology and design and promotes collaborative work through intuitive technology. The students used the Delta Room during a business game focused on the importance of data and the securing of company information systems.
The IBM Client Center Paris offers the experience of innovative solutions in digital transformation projects through data management. In the past, students attended the conference "The learning company: intelligent, collective, enhanced" derived from a study conducted with EBG (Electronic Business Group), the main French think tank on digital innovation for the past twenty years.
Adapted programme for high-level athletes and artists
High-level athletes and artists may benefit from an adapted programme in order to pursue both their studies and their passion.
Professional thesis
The professional thesis is a project whose purpose is to identify an issue important to companies and respond to it by using a conceptual approach and empirical research. This project must lead to practical recommendations for companies. Its additional purpose is to help students acquire technical expertise while also developing important soft skills for the job market: critical thinking, complex problem resolution, etc.
Evaluation procedures
The programme is recognised through a dual validation:
Ongoing assessment: evaluations conducted throughout the length of the programme in the form of individual or collective reports to be submitted
A professional thesis: submission of a written document and an oral defence before a jury made up of an academic tutor and a company tuto
At the end of the programme and after a validation of the ongoing assessment and professional thesis, the Level-7 RNCP of Customer Relationship Manager degree is awarded to the participants.
If some modules were not validated and thus no credits were earned, the programme participant can redo the evaluation during a period set up for this purpose.
The part-time format allows you to remain at your company and promotes your entry and development in the professional world.
Targeted professions
Data Analyst
Big Data / Digital Transformation Consultant
CRM / BI Project Manager, Chief Data Officer
Data and AI Product Manager
Data Marketing & Analytics Manager
Business Analyst, Analytics and Performance Manager…
Our students positioned in companies
Students from the class of 2023 have professionalisation contracts in companies such as:
BEL – CONVERTEO – EURODISNEY ASSOCIES – FNAC DARTY – HACHETTE LIVRE- LVMH – MERCEDES BENZ – SHOWROOMPRIVE.COM – WEFIGHT – YDATA
Performance indicators
84%
Satisfaction rating
on instruction1
1 month
Average time taken
for job search2
100%
Employment rate
at 6 months2
Sources: 1 Course Evaluations 2021-2022 | 2 Graduate Employment Survey average 2020-2022 | 3 Jury 2020-2021
Eligibility
This programme is intended for young graduates who want to develop a specialisation or earn a double skill and professionals who want to complement their skills.
We accept applications from students holding one of the following diplomas:
Four-year Bachelor's degree
Three-year Bachelor's + 3 years of professional experience*
Level-7 RNCP certification
International degree equivalent to the required French degrees noted above
*apart from internship and work/study contract
This programme is accessible to people with disability.
Apply
1st step: Application
You need to fill out the application online.
You must include the required documents:
CV
Two letters of recommendation
Marks from your last two academic years
Level of English*
*If the applicant does not have results from an English exam (B2 level), the recruitment manager can have the applicant take an online test.
The selection jury will decide on an applicant's admissibility after reviewing their application.
The applications must be finalised no later than 10 days before the date of the interview.
2nd stage: Admission tests
Applicants deemed admissible after review of their applications then have a motivation interview.
Definitive admission is communicated to each candidate within 7 days of the date of the motivation interview. Application fee: 100 €
Calendar
Motivational interviews take place once or twice a month from January to September. The schedule of admission session dates for the 2023 school year is the following :
Thursday, February 9th 2023
Thursday, March 9th 2023
Thursday, March 30th 2023
For more information, contact our international team:
Practical information
Format:

Part time (One week of lessons, two weeks in the business)

Duration:

12 months

Tuition fees:

€17,400

Campus:

Paris

Teaching language:

French

Course start date:

September 2023

Entry level:

Master's Degree / Four-year Bachelor's degree + 3 years of professional experience (apart from internship and work/study contract) / Four-year Bachelor's degree (30% of class)

Degree awarded:

Specialised Master accredited by the "Conférence des Grandes Ecoles" / Level 7 Qualification on the RNCP (French Register of Professional Certifications) / RNCP sheet No. 36530, Customer Relationship Manager
close-icon
Ranking
1 st rank
Eduniversal ranking 2022 of the best Masters, AM and MBA - Digital Marketing et Data Analytics category
close-icon
Practical information
Practical information

Format:

Part time (One week of lessons, two weeks in the business)

Duration:

12 months

Tuition fees:

0€

Campus:

Paris

Teaching language:

French

Course start date:

September 2023

Entry level:

Master's Degree / Four-year Bachelor's degree + 3 years of professional experience (apart from internship and work/study contract) / Four-year Bachelor's degree (30% of class)

Degree awarded:

Specialised Master accredited by the "Conférence des Grandes Ecoles" / Level 7 Qualification on the RNCP (French Register of Professional Certifications) / RNCP sheet No. 36530, Customer Relationship Manager