Programme presentation
The MSc Marketing is a full-time Master of Science programme taught in English that offers deep insight into marketing.
The programme aims to prepare students for diverse marketing career, in the current international marketplace characterised by radical digital change.
This Master of Science covers the main fields of the latest marketing expertise, combining academic knowledge with the experience of professional experts sharing real-life business examples.
Its curriculum focuses on the efforts to create, communicate and deliver value through brands, products and services.
The MSc Marketing consists of a core programme and a concentration track. The core programme aims to provide students with a global and strategic foundation in marketing, while the concentration track endows them with expertise in one of the three following fields: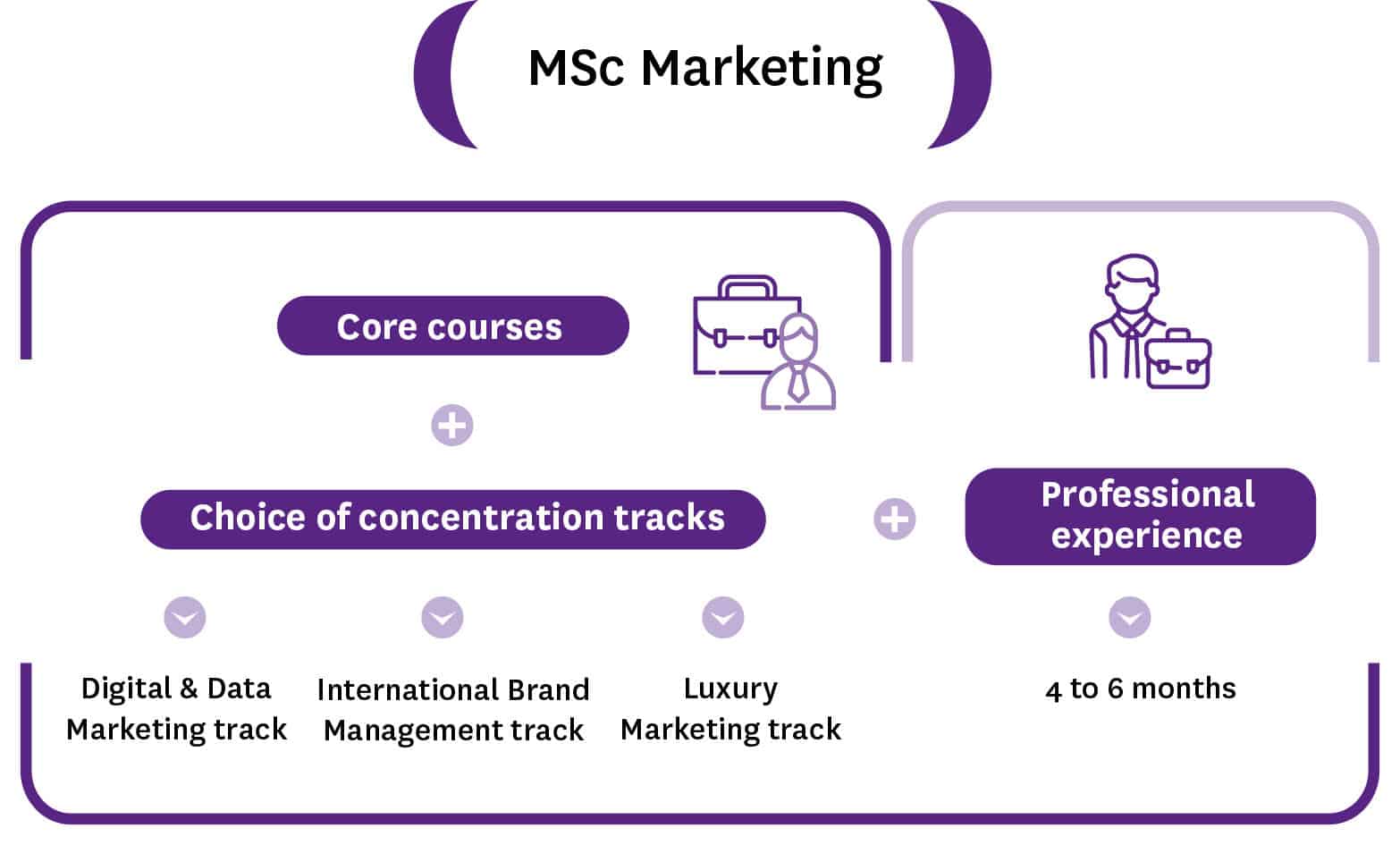 Your MSc in 2 years!
If you hold a 3-year Bachelor's degree, you have the possibility of doing this MSc in two years by joining our 12-month International Pre-Master programme. For more information on this course, go to the section "2-Year MSc Option" !
5 reasons to join the programme
Develop a broad and masterful understanding of marketing issues while also building strategic and specific knowledge via a choice of concentration.
Build deep critical and analytical skills in the various areas of marketing
Use your skills to acquire key industry certifications and qualifications
Kickstart your career and become a key player in international marketing
Benefit from NEOMA Business School's powerful professional network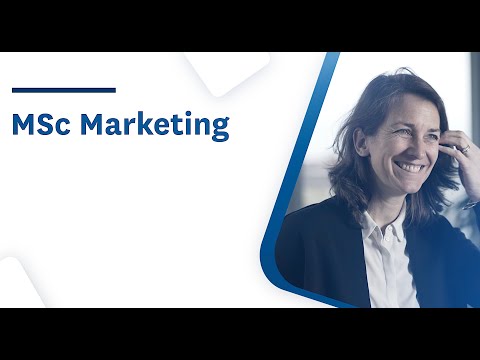 Concentration tracks
The concentration tracks offered within this Master of Science programme will allow candidates to add a specialisation of excellence in precise areas of marketing: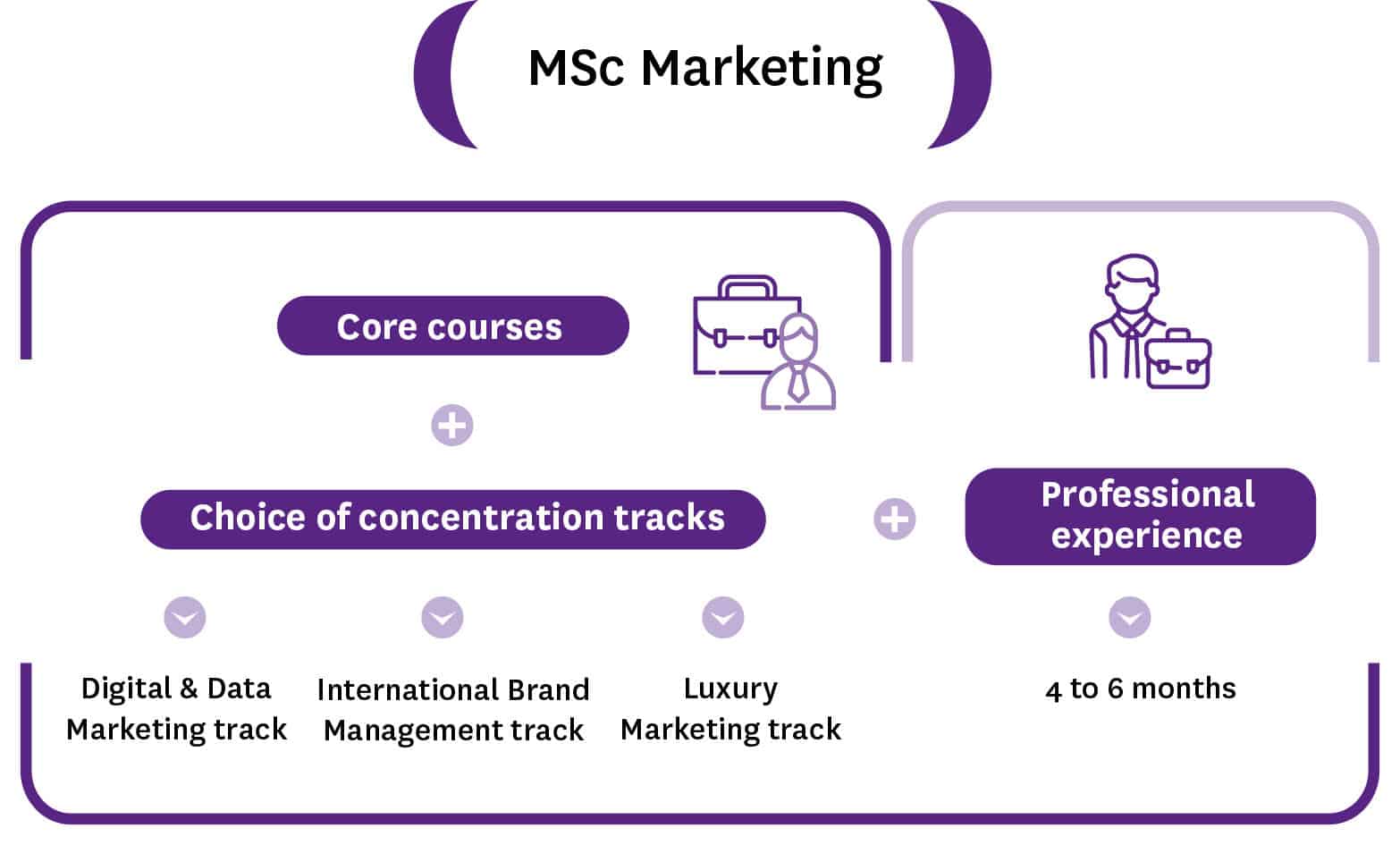 Digital & Data Marketing Track
The Digital & Data Marketing track aims to train students in up-to-date digital marketing techniques and give them the ability to adapt in a rapidly changing international business world.
International Brand Management Track
The International Brand Management track prepares students for a diverse and international career in marketing and brand management in a fast-changing digital environment.
Luxury Marketing Track
The Luxury Marketing track prepares students for solid, successful careers in the luxury industry. It is designed to develop experts and multicultural executives in luxury marketing with innovative perspectives and creative skills.
Programme objectives
The objective of the MSc in Marketing is to prepare candidates to thrive in the diverse field of international marketing.  Graduates will be equipped with the knowledge and skills to have impact, effect change and deliver results in a field characterised by constant transformation.
Upon completion of the programme, students will be able to:
Master the fundamentals of the key areas of marketing
Analyse data and draw key insights in order to design and implement successful marketing strategies
Draw from a strong toolkit of soft and hard skills to excel in the fast-paced digital realm
Skill sets
The MSc Marketing programme, awarding a higher education degree in international management (DESSMI), provides the skills to:
Perform a functional analysis and implement an action plan that incorporates digital, sustainable and international components
Conduct a scientific study and issue a recommendation
Develop ethical leadership abilities to strengthen one's managerial position
Programme highlights
Experience-based, immersive approach
This Master of Science uses several innovative teaching methods applied to the marketing sector while also relying on active participation from marketing professionals and professors. The MSc Marketing combines academic lectures with active learning, including real-life case studies, guest speakers and team-based activities.
Partnerships
Many courses within the MSc Marketing are conducted in partnership with companies that are industry experts, incorporating professional lectures and case studies based on current business issues. Some partnerships are long term while others are based on a year-by-year agreement.
Examples of past partners include: Nielsen, GFK, Ferrero, PepsiCo, Ogilvy, Publicis Sapient, Havas Media, among others.
Digital certifications
Throughout the course, candidates will be able to train for and obtain key industry certifications that will help them stand out from the crowd on the job market post-graduation.
Adapted programme for high-level athletes and artists
High-level athletes and artists may benefit from an adapted programme in order to pursue both their studies and their passion.
Evaluation methods
Students are evaluated in two distinct ways:
For the DESSMI diploma: By validating the various course assessments.
For the RNCP level 7 certification: By validating the key competency requirements.
If certain courses or modules have not be validated and therefore the credits not obtained, the student may re-sit the evaluation during the periods set up for this purpose.
Targeted professions
NEOMA Business School's MSc Marketing can open the door to a number of future careers, such as:
Brand Manager
Community Manager
Content Manager
Customer Relationship Manager
Marketing Manager
Marketing Strategist
Product Manager
Project Manager
Social Media Manager
Web Traffic Manager
Professional experience
The professional experience required to be awarded the MSc Marketing diploma is an essential opportunity to apply the theoretical and practical skills learned during the first two semesters in a professional environment. Students are free to complete their experience as a 4-to-6 internship in France or abroad, a permanent contract job or the creation of a new business or start-up in France or abroad.
Performance indicators
89%
Satisfaction rating
on instruction1
< 1 month
Average time taken
for job search2
100%
Insertion rate
at 6 months2
Sources: 1 Course Evaluations 2021-2022 | 2 Graduate Employment Survey average 2020-2022 | 3 Jury 2020-2021
Admissions Requirements
1-year course:
Completion of a 4-year Bachelor's degree (in business, economics, sciences, etc.) or a 3-year Bachelor's degree with a minimum of 1 year of professional experience
Proof of English language proficiency is required during the application process (TOEIC, IELTS, TOEFL iBT, Cambridge, Duolingo)*
2-year MSc option:
Completion of a 3-year Bachelor's degree (Open to all backgrounds)
Proof of English language proficiency is required during the application process (TOEIC, TOEFL ibt, IELTS, Cambridge and Duolingo).*
*Contact us to learn more about the scores required for each test. 
Admissions process
Complete the online application: apply.neoma-bs.fr
Provide scanned copies of all original documents in English or French (CV, motivation letter, transcripts, etc.)
Candidates who meet the admissions requirements will be asked to complete a deferred interview
Admissions results are sent by email within two weeks of the interview.
Application fee : €100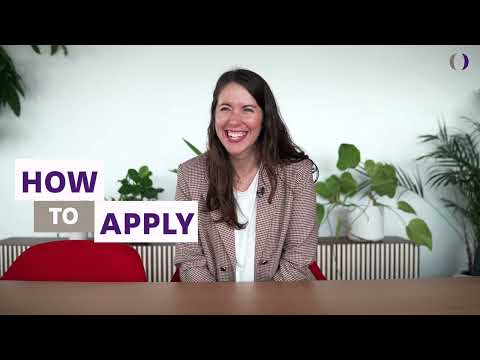 Admissions calendar
Applications are accepted on a rolling basis, from September 2023 with a final deadline for submissions in mid-July 2024. Applicants will be informed of the admission jury's decision two weeks following the interview.
However, given the limited number of places, candidates are advised to apply as early as possible.
Additional recommendations
Candidates should demonstrate interest in investing in a future career in marketing via certifications, courses, etc. They should have at minimum an introductory knowledge of marketing and some notions of business.
Candidates should be able to communicate with confidence in English, participate in group work, demonstrate initiative, strong interpersonal skills, enjoy meeting people and having new experiences.
2-Year MSc Option
Sharpen your skills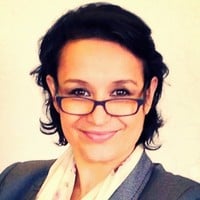 "Open up your professional horizons and reach for an MSc from a top French Business School"
Delivered on the Rouen campus, this programme serves as a gateway to a Master's of Science for students with a three-year higher education qualification (French Licence or Bachelor's degree). The programme is also open to students with degrees in non-business fields. The first year is an International Pre-Master, overviewing the core of business studies and leading up to the selected MSc in the second year. Please specify your preferred programme when preparing your application.
Layout of the programme
This course was designed to…
Open access to MSc degrees to profiles missing the necessary qualifications for direct entry
Guarantee success at the MSc level by laying the ground during the Pre-Master year
Open up professional horizons by switching to a new field of study
Overview the main areas of knowledge included in an undergraduate business degree
Courses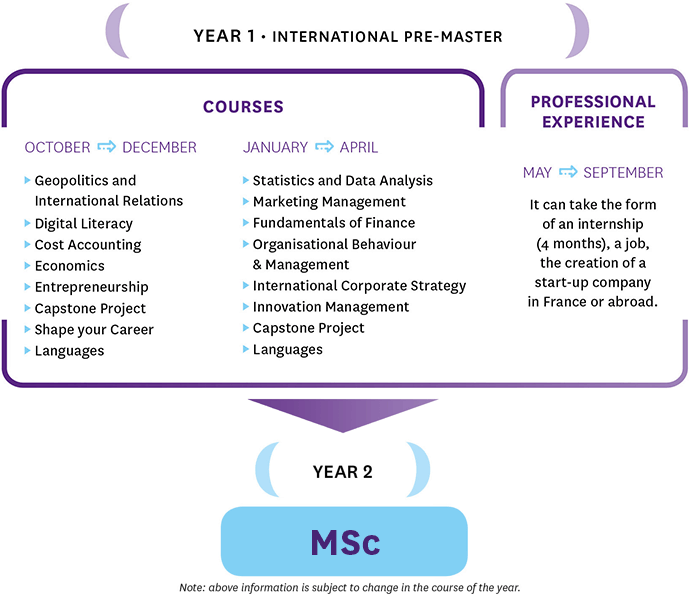 Professional experience
The two-year programme includes two mandatory internships, one at the end of the International Pre-Master year (4 months) and one at the end of the MSc year (6 months). Internships can take place in France or abroad, subject to approval by the programme director and based on the relevance to the MSc programme and course content.
Why join this programme?
Prepare your entrance to a prestigious MSc by consolidating and sharpening your knowledge of business and management, in an intensive, one-year International Pre-Master programme.
5 good reasons to join the programme
Apply for an MSc degree in a field that is different from your undergraduate degree
Integrate and adapt to the study methods of a top French business school before starting your MSc degree
Obtain academic qualifications necessary to integrate an MSc degree
Gain professional experience with two internships in two years
Build an international mind-set and cross-cultural communication skills
Stories
Anqi YANG
2013-14
The first year of my MSc in Global Management was a year of building the fundamentals skills necessary for almost every aspect of my professional life. Courses like Quantitative Methods gave me skills related to a several fields of study, like economics and finance, helping me to read and analyze data in a more objective way. Geopolitics provided me with a comprehensive vision of world trade. Also, a full day's work in an English-speaking environment strengthened my preparation for work in an international context. The courses were extremely useful and gave me confidence in my competences. What I also liked a lot is the diversity of teachers; they are from different countries, which really gives me a feeling of studying in an international school.
Romain PENNEL
2013-14
After an unusual study track, with a two-year high school diploma in Marketing and Trade, I chose to go abroad and complete a Bachelor in English. Graduated with a 3-year Bachelor degree, I followed the two-year MSc programme at NEOMA Business School. That was the perfect solution for me, to be able to get an MSc degree. The first year at NEOMA BS prepared me to follow the courses in the MSc in Marketing French Excellence, and face professional challenges in the international business arena.
For more information, contact our international team:
Practical information
Format:

Full time

Duration:

1-year course: 15 months
2-year course: 12 months (1st year) + 15 months (2nd year)

Tuition fees:

1-year course: €18,500
2-year course: €29,000

Campus:

Paris, Reims, Rouen

Teaching language:

English

Course start date:

October

Entry level:

1-year course: 4-year Bachelor's degree or 3-year Bachelor's degree with a minimum of 1 year professional experience
2-year course: 3-year Bachelor's degree

Degree awarded:

Master of Science, "Grade de Master" / Level 7 Qualification on the RNCP (French Register of Professional Certifications) / RNCP sheet No. 37684, Advanced degree in international management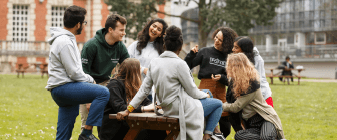 close-icon
Practical information
Practical information

Format:

Full time

Duration:

1-year course: 15 months
2-year course: 12 months (1st year) + 15 months (2nd year)

Tuition fees:

1€

Campus:

Paris, Reims, Rouen

Teaching language:

English

Course start date:

October 2023

Entry level:

1-year course: 4-year Bachelor's degree or 3-year Bachelor's degree with a minimum of 1 year professional experience
2-year course: 3-year Bachelor's degree

Degree awarded:

Master of Science, "Grade de Master" / Level 7 Qualification on the RNCP (French Register of Professional Certifications) / RNCP sheet No. 37684, Advanced degree in international management