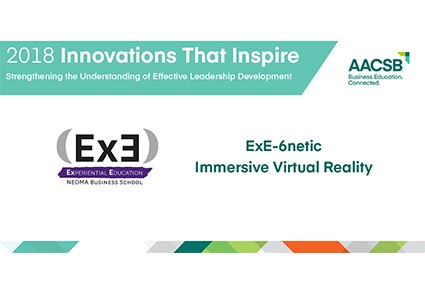 NEOMA Business School acknowledged for its Immersive Virtual Reality approach to teaching by AACSB
The prestigious American organisation that places innovation at the heart of its accreditation procedure has attributed a prize to NEOMA BS, confirming the school's place amongst the top 30 institutions worldwide in terms of innovation and leadership!

The prize awarded to NEOMA BS comes under the "Innovations That Inspire" category organised by AACSB. The worldwide competition seeks to add value to Business School initiatives committed to advancing the management training sector. 119 innovations were presented by more than 90 schools from 25 different countries. 30 of these were awarded prizes for their forward-looking approach to teaching and their contribution to improving higher education teaching as a whole.
"The biggest risk to business schools is not the rapid pace of change. It is in failing to prepare the next generation of business leaders to cope with that change," said Thomas R. Robinson, president and CEO of AACSB. "Through its best-in-class leadership development program, the Immersive Virtual Reality of NEOMA Business School is ensuring that the business leaders of tomorrow will be ready for whatever lies ahead."
> Read more about AACSB challenge Innovations that Inspire
> read more about NEOMA BS ExE-6netic Immersive Virtual Reality awarded in the category Enhancing Approaches to Leadership Education Development