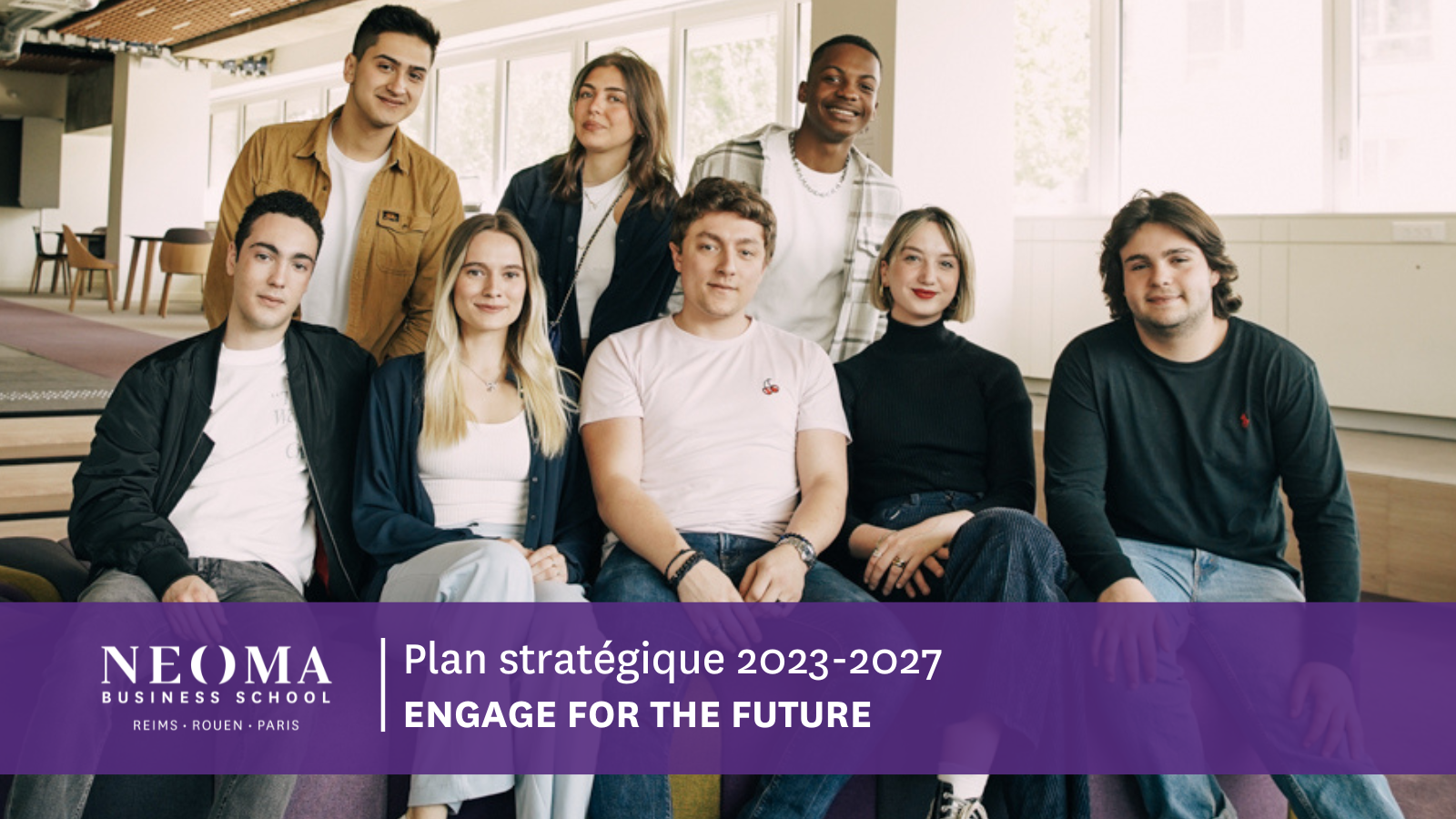 "ENGAGE FOR THE FUTURE": NEOMA Business School unveils its 2023-2027 strategic plan
Published on 10 February 2023 by NEOMA
After a 2018-2022 strategic plan characterised by the School's steady progress, NEOMA unveils its new 2023-2027 plan entitled "Engage for the Future". This new strategic roadmap will allow NEOMA to continue its drive for transformation and to establish itself as a leader in the long term. To achieve this, the School will rely on three key pillars: academic excellence, societal impact and student experience.
Carrying on NEOMA's momentum of transformation in the service of young people to address the major challenges of the future and to establish itself as a leader in the long term
Since the launch of its previous strategic plan, NEOMA has developed significantly and has met all of the growth targets set in 2018. "The School is now reaping the benefits of a successful merger and I would like to commend the exceptional work of all the teams who have enabled NEOMA to follow a very positive trajectory over the past five years," says Delphine Manceau, NEOMA's Dean. "We are proud of several major achievements, such as the expansion of our research, the substantial increase in the number of applicants to our programmes, the creation of the first virtual campus in Europe and the opening of our new campus in Paris. Our attractiveness has grown considerably and these results encourage us to be ambitious for this new chapter".
A positive trajectory over the past five years
Growth in

budget

Programme

applicants

International

development

Advancement

in research

+40%

x2.5

400 partners

Articles x2

Stars x2.5
Strengthened by these results, NEOMA wishes to reinforce its current dynamic whilst also responding to the major challenges of the future. "Today we are at a turning point. Never has society experienced so many upheavals, whether they be environmental, technological or geopolitical. At the same time, young people have changed profoundly. They have experienced and are still experiencing a period of great uncertainty, and are often torn between a strong desire for change and a pursuit of momentary pleasure," analyses Julien Manteau, Associate Dean for Development. "And let's not forget the higher education sector, which is also undergoing profound change".
It is in this unprecedented context that the School launches its new 2023-2027 strategic plan. Entitled "Engage for the Future", its ambition is to carry on NEOMA's transformation momentum in the service of young people in order to address the major challenges of the future and to establish itself as an enduring leader in higher education.
This new plan was developed through a collaborative process. NEOMA mobilised all its stakeholders (students, professors, employees, graduates) to draw inspiration from those who make up the School and to gather their ideas. These contributions, collected through workshops and interviews, have fed into this new strategic plan.
An ambitious strategic plan built around 3 pillars
With "Engage for the Future", NEOMA is committed to working with young people to respond to tomorrow's challenges, focusing on three pillars:
Engage for Academic Excellence, "because we consider academic excellence to be a sine qua non condition for fully responding to today's major transformations," explains Fabio Fonti, Associate Dean for Faculty & Research. This pillar will focus on:
Research, through the reinforcement of the teaching staff (+10 permanent professors each year) and research production (with an annual objective of 250 articles and 700 stars), as well as the deployment of the four poles of excellence, in total harmony with the issues facing companies and society: The World We Want; The Future of Work; AI, Data Science & Business; The Complexity Advantage.
Teaching, by continuing to integrate environmental and societal transition issues into course curricula. These topics are already addressed within each of NEOMA's programmes and will have to be included in each course by 2027.
"Hybridisation" of NEOMA's programmes, by signing double degree agreements with institutions that are recognised in France and abroad for their expertise in disciplines such as the social sciences and humanities, computer science, environmental science and sustainability, and engineering. Building on its cross-disciplinary positioning combining creativity, management and digital, the TEMA undergraduate programme, already offered in Reims and Paris, will also be deployed on the Rouen campus by 2024.
Executive Education, with the aim of tripling its turnover, as well as reinforcing its range of training courses to align with the major challenges facing companies in the areas of digital technology, environmental transition and new work organisations, following the example of its collaboration with Jedha.
Educational innovation, by launching "NEOMA Online", a range of courses including iLearning modules in the fields of data management, sustainability and the major disruptions linked to digital technology (connected objects, artificial intelligence, etc.). 
Engage for Society: "Contributing to the major societal evolutions encompasses a wide range of actions, from making good use of artificial intelligence to responding to climate change and promoting diversity," says Delphine Manceau. This pillar will be based on:
NEOMACT, a new scheme to empower students to become positive actors for change from the time they arrive at NEOMA, in line with the 17 United Nations Sustainable Development Goals (SDGs), and thus instil confidence in their ability to take action and transform companies and society. Workshops to determine one's "change maker" personality, community-based projects, awards for the most impactful initiatives, dedicated events… This new scheme, co-constructed with students, aims to fight eco-anxiety through action.
Expansion of the partnership with the Institut de Relations Internationales et Stratégiques (IRIS), one of France's leading think tanks specialised in geopolitical and strategic issues. Already partners, NEOMA and IRIS will strengthen their synergies and launch both the "Rencontres géoéconomiques" ("Geo-economic Meetings") in fall 2023 and a commission dedicated to geopolitics and corporate responsibility, a place for research and gatherings focused on the geopolitical issues that companies face and the impact of their actions.
Exemplarity as an organisation, with the reinforcement of the School's commitments to the environment, making the future Reims campus a reference in this area. The School also aims to strengthen its commitments to society by doubling the budget for student grants in five years.
Engage for Students, "because the years spent at NEOMA profoundly change our students. The School is committed to supporting them during this transformational journey by enriching the student experience in all its dimensions", emphasises Céline Davesne, Associate Dean for Programmes. This pillar is structured around:
Learning, "by reinforcing the School's pioneering position in immersive technologies, such as the deployment of virtual reality or artificial intelligence within our programmes," explains Alain Goudey, Associate Dean for Digital.
The international experience, which is highly valued by students, and which will be strengthened with enhanced student support. The aim will be to "transform" students in a lasting way by enriching their future cultural and professional identity through contact with other cultures.
Student life, by cultivating our students' fulfilment, thanks to the conviviality and family spirit that characterise the School. In this respect, NEOMA continues to make student life a real driver of learning by doing, with the expansion of sports and artistic activities on its campuses. The School will also continue to develop its "Wellness" service, dedicated to students' well-being and mental health.
Campuses, an embodiment of student life, with the creation of coworking spaces, support services and spaces open to the community. The School affirms a strong conviction here: for experiential learning, environment is essential.
Employability, to guarantee our graduates' successful entry into the workforce throughout the world and in all sectors. To make this commitment a reality, NEOMA maintains its strong commitment to apprenticeships (900 places), aims to strengthen the diversity of graduates' careers, encourage international career paths and capitalise on the power of its alumni network, one of the largest in France.
"Starting today, we are opening a new chapter in the School's growth to further accelerate our drive for progress and transformation," concludes Delphine Manceau. "This new strategic plan sets out great ambitions for NEOMA, with a clear objective: to respond ever more effectively to the aspirations of young people and to enable our students to become committed players in the transformation of companies and society".