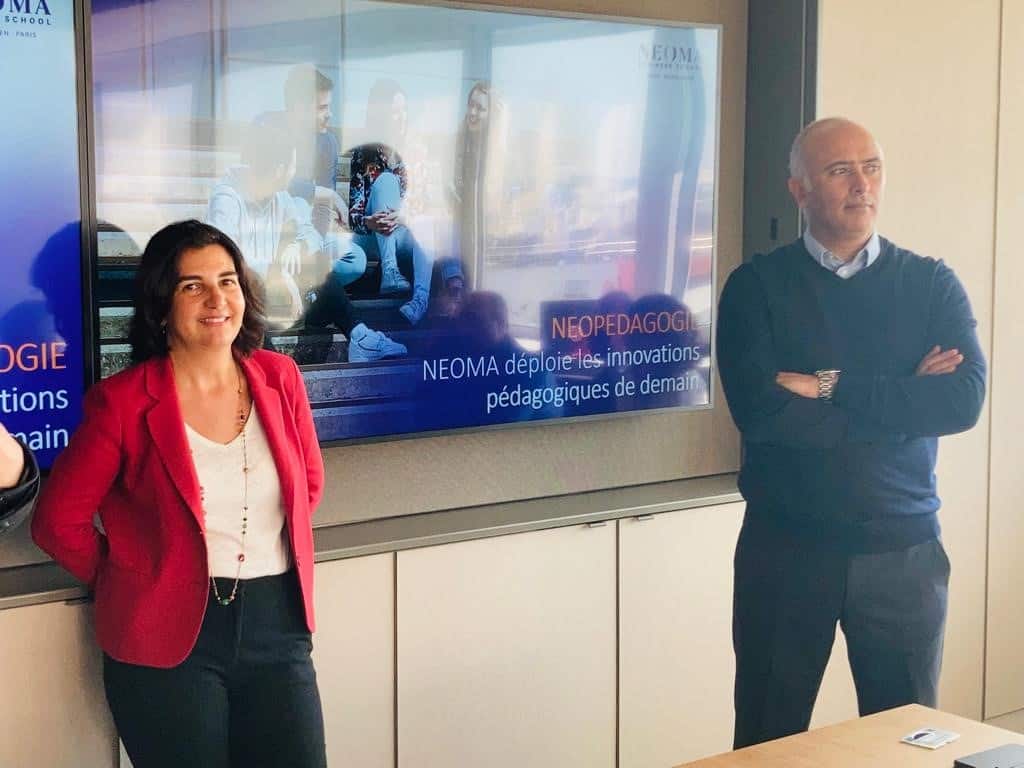 NEOPEDAGOGIE: NEOMA deploys the pedagogy of tomorrow
Published on 17 June 2022 by Dominique
Based on the findings from the NEOPEDAGOGIE study, conducted through in-depth interviews with more than one hundred and forty professors and students as well as an analysis of experiments carried out in the best institutions in the world, NEOMA today unveils its new pedagogic models and associated innovations. These models are already in the test phase this year and will be fully applied for the 2022/2023 academic year. They combine the complementary benefits of in-class learning, synchronous remote learning and asynchronous remote learning. NEOPEDAGOGIE also identifies the key characteristics of a new generation course, in keeping with the expectations of today's youth. Several innovations revisit classroom dynamics and the role of the teacher. Their common points include allowing for more interaction, learning personalisation and scenario-oriented courses.
NEOPEDAGOGIE: imagining the pedagogic models of tomorrow
As an important player in higher education, NEOMA strives every day to reinvent pedagogic models and lessons to give young people easier entry into the world of tomorrow. "The intense digital culture and new modes of learning belonging to this generation of learners leads us to rethink each day how we do things. That's why NEOMA has been committed for many years to the Test & Learn approach for pedagogic innovation," Delphine Manceau, NEOMA Business School dean, said. The health crisis was a major driver in this approach. "The two years of the pandemic helped clarify the emergence of four distinct pedagogic formats – in-class learning, synchronous remote learning, asynchronous remote learning, and hybrid learning – that open up each of these new perspectives."
It's in this context that the school launched this wide-reaching study. "With NEOPEDAGOGIE, we had the clear ambition of identifying and analysing the benefits of each format so we can combine them and then create the pedagogic models of tomorrow," Delphine Manceau said. To successfully conduct this study, NEOMA collected the experiences and opinions of more than one hundred students and forty professors. "We performed an in-depth analysis of the experiences of our students and professors with the pedagogic practices used over the past twenty-four months on our campuses, and we also studied the practices employed at the best institutions from around the world."
Capitalising on the added value of each format
The results of this in-depth study are now used to deconstruct accepted ideas and factually and objectively identify the added value of each pedagogic format.
"As a complementary addition to these benefits, remote learning also prepares students for what they will experience at work, where knowing how to manage and work remotely in groups is now more than ever an essential skill," Delphine Manceau said.
In view of these forms of learning, NEOMA will use new pedagogic models in all of its programmes at the start of the 2022/2023 academic year. "These models will be featured prominently in in-class learning, which now more than ever is a core part of our pedagogy, and will combine the three formats adopted by the school, alternating in-class, synchronous remote and asynchronous remote learning." With sixty to eighty percent of lessons being taught in class, they will be adaptable based on the learners, the course material and the pedagogic objectives. "In designing these new models, we made sure to combine the strengths of each format, keeping in-class learning as the dominant model that benefits the overall learning experience," Delphine Manceau said.
Identifying the characteristics of a new generation course
NEOPEDAGOGIE also highlighted the students' and professors' serious expectations on what goes into a successful course. "Whether it be in-class or remote learning, for most of them, the success of a course resides in three central components: personalisation, scenario creation and interaction," Delphine Manceau said.
The school strives to apply these three essential components in its curricula with the goal of promoting long-term knowledge acquisition, stimulating student involvement and rethinking the teacher's role. This is achieved through a close collaboration between professors and educational designers. These designers play a central role at NEOMA as creative experts in education. They centralise the best internal and external practices at NEOMA and support the professors so they can develop their courses and bring greater variety to the types of activities offered (games, debates, visiting experts, etc.). "They can also be asked to create different learning scenarios based on student profiles with exercises and pedagogic content adapted to different needs," Delphine Manceau said. "These strong complementary efforts between teachers and educational designers enables our professors to develop their talent as educators and allows NEOMA to place pedagogic rigour at the centre of the student experience."
Deploying the pedagogic innovations of the future
Through the NEOPEDAGOGIE study, the school worked on identifying and deploying several pedagogic innovations. "If NEOMA is an innovative school, it is because of our culture and shared passion for innovation," Delphine Manceau said. "It is also because of our two-pronged organisation with a digital transformation department, responsible for inventing and designing new pedagogic approaches, and a innovative pedagogy department, which deploys these innovations in the programmes and informs the faculty about them. To achieve this, we combine the expertise of our educational designers with a pervasive course design culture."
Four innovations are currently being used in the programmes:
A unique online pedagogic experience, the virtual campus: Two years after it was opened, NEOMA today uses the virtual campus in all of its programmes. "We have one thousand avatars and several hundred hours of pedagogic activity," Alain Goudey, digital transformation director, said.  
A renewed peer learning approach that relies on an interaction model where students come in contact with the different experiences of their peers, taking advantage of their diverse profiles. "Our idea here is to use the experience of students as a springboard for the collective learning process," Haithem Marzouki, innovative pedagogy director, said.
Learning personalisation via adaptive learning: this data-driven pedagogic approach helps adjust course pace and content to each student based on their learning speed. "It's an advanced form of learning personalisation, which is especially beneficial for students and stimulating for the professor. Using artificial intelligence algorithms, this approach offers students custom exercises between each in-class course," Haithem Marzouki said.
A new vision of asynchronous remote learning through interactive learning: the learning experience here is reinvented. "The challenge is to maximise engagement, satisfaction and learning by combining three pedagogic components: talks with experts, interactive content and a "web series" approach where students develop the scenario as they go along." Alain Goudey said. Students are thus placed in a specific function (chief digital office, for example) and accrue knowledge in a stimulating way through the decisions they need to make as well as through the work that they need to do (analyses, calculations, recommendations, etc.).
"We are now able to deploy these new models and innovations on a large scale in all of our programmes," Delphine Manceau said. "Through pedagogic organisation, NEOMA helps develop the creative talent of our professors, always in an effort to benefit the education and success of our students."