STRONG: a network that resembles the best global institutions
For many years now, NEOMA has pursued an ambitious international policy that has helped it create the largest network of any business school in France.
Our strategy is to connect locally and internationally with the most prestigious and recognised partners so we can develop a high-quality academic network and thus guarantee an exceptional educational experience for our students.

RELEVANT: A network receptive to our students
Our aim: understand the trends in student mobility to focus our strategy on the most sought-after regions and offer partnerships in the most popular destinations.
Five trends in international mobility for 2022:
Through its powerful network of partner universities and large number of students on academic exchange, NEOMA has identified five major trends emerging from the desires of our students:
United States: renewed appeal
Canada: for its dual culture and commitment to CSR
South Korea: increased attraction
Portugal and Scandinavia: growing interest
Bocconi, St Gallen, Tsinghua, IIM Calcutta, etc.: the institution's prestige trumps interest in the country
Become a partner
Our partners, collaborations and international exchanges come in a variety of flexible and innovative formats. Our international partnerships are structured around agreements that are constructed for each specific partnership to ensure high-quality cooperation. They evolve to offer students and professors the best international experience.
If you share our outlook, please feel free to contact us to propose a collaboration: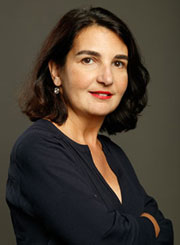 Delphine MANCEAU
Dean NEOMA Business School

NEOMA is pursuing its development with a strategy based around two key characteristics, Strong & Relevant, which aim to combine the network's quality and relevance. We have a double objective: strengthen our network with prestigious and recognised institutions and respond to the new international mobility aspirations of our students.
Key figures
400 university partners in 61 countries
88% partners with accreditation