The Board of Directors, chaired by Michel-Edouard Leclerc, is the main body of governance of NEOMA Business School. It is currently composed of:
6 members appointed by CCI Marne en Champagne
6 members appointed by CCI Rouen Métropole
1 representative of the Alumni Association
2 elected representatives of the Faculty
1 elected representative of the staff
1 elected student representative
6 independent members.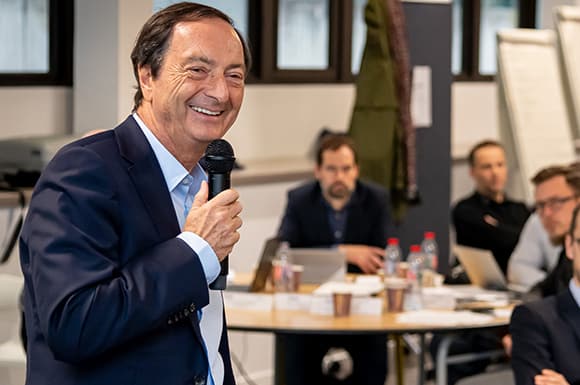 Mr Michel-Edouard Leclerc chairs the Board of directors of NEOMA Business School. President of Centres E.Leclerc Strategic committee, he brings together a group of independent business people trading under this name and leads the strategy committee. He holds a Doctorate in Economic Sciences. As a business developer, he has broadened the brand's playing field and continues to open it up to new markets: fuel, jewellery, health and beauty, travel, etc. and is setting in motion the brand's transition towards a multi-channel distribution model. As the embodiment of the eponymous brand created by his father, Edouard Leclerc, he has enhanced the identity of the brand by adding to the historical values it already has that of social responsibility, implemented by the Movement in tangible actions to promote health, the environment and culture.