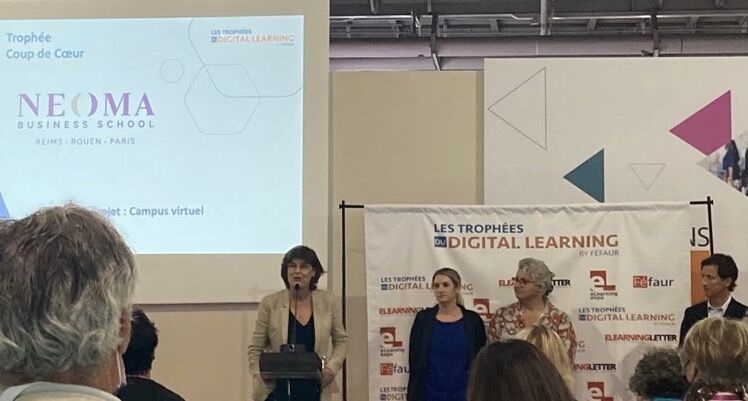 Digital learning award for NEOMA Virtual Campus
On 9 September, the Virtual Campus was awarded the "Coup de Coeur" prize at the 2021 Digital Learning Awards. A perfect anniversary gift for NEOMA, as the School celebrates the first year of its 4th campus!
A few days ago, a jury of digital transformation and training experts awarded NEOMA's Virtual Campus their Jury's Favourite or "Coup de Coeur" prize at the Trophée du Digital Learning 2021 (Digital Learning Awards).
Each year, these awards acknowledge the best digital learning projects and strategies developed by French companies. ​
"We are delighted with this award because it acknowledges the relevance and quality of the educational solution we set up when the health crisis forced about the disappearance of classroom teaching," says Marie-Laure Massué, NEOMA Learning Lab Director.
As the students return to the classroom, the Virtual Campus remains a formidable teaching and learning tool, allowing our professors to unite students on different campuses and even abroad and thereby maintain or create stronger ties.
The Virtual Campus is also available for teams to develop other modes of exchange, meetings and other events and create a unity of time and place whilst working remotely.